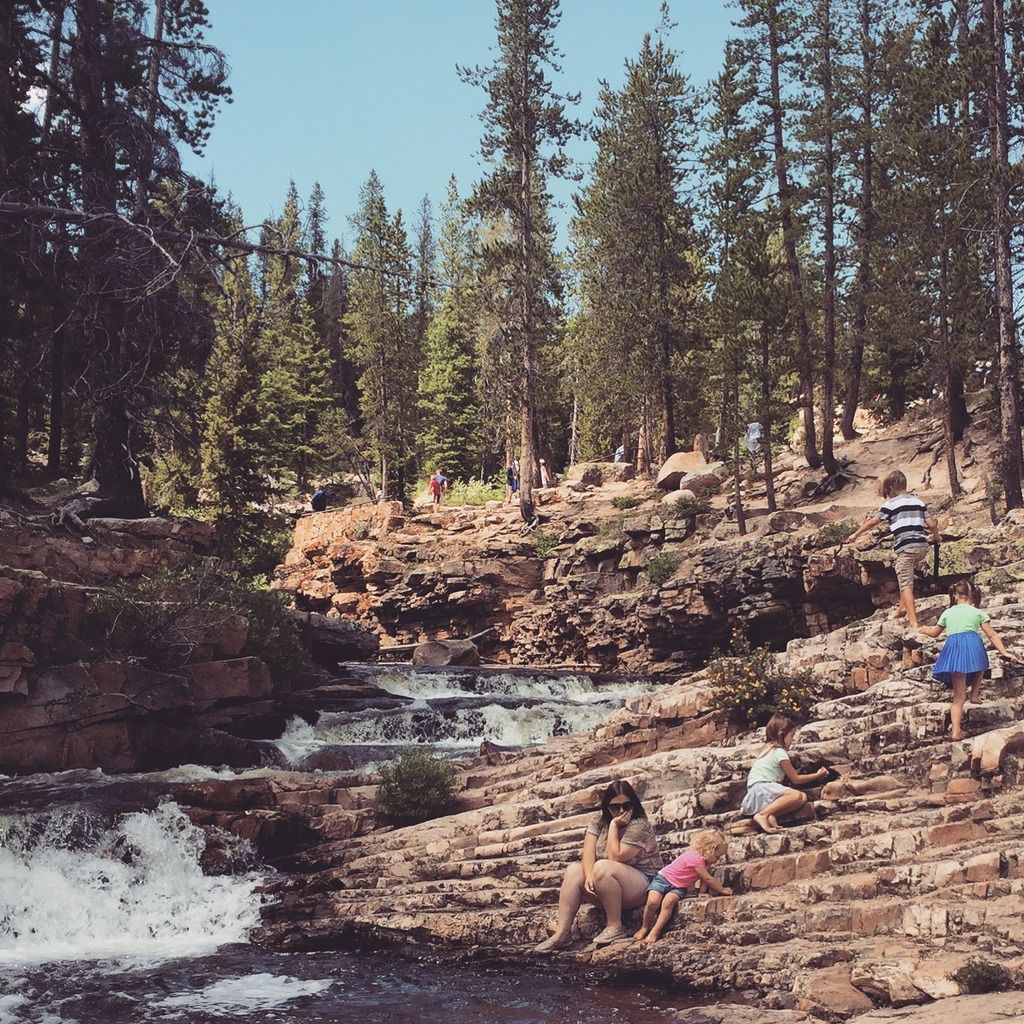 Last night of the summer.
Tried to take my kids on one last adventure, but they fell to the lulls of the blurry white moon. So we took them to bed and I found a hole in space to sit down and write.
This is our report:
I gasped at The Big Rock Candy Mountain when we saw it for the first time, it was yellow, and red and looked like it belonged in my uncle Brent's train set.
We drove up and down the hills of Moroni, Utah and looked out west for the turkey farms.
I listened to the DNC as I completed the Nebo Loop for the first time ever, stopping for a moment at the displaced red hoodoos of Devil's Kitchen. I was all alone. Cried at the history I was hearing.
We swam in the turquoise waters of Bear Lake with cousins and celebrated victory over Grandpa's cancer.
Christopher and I sat our Bullfrog Spa and counted the Perseids dripping in the night sky.
We found the secret Fairy Forest in the Uintas and left gifts of colored rocks. Then we wound our way over to the Upper Provo Falls and dipped our toes into the glacial-cold water.
We spent the day bobbing around the Payson Lakes--where Ever and Anson tried swimming in a lake with life jackets for the first time "It feels I'm in space!" shrieked Ever. The sensation thrilled them for hours!
We camped over night at Castle Rock Campground in Sevier County, played in the pinkish rock castles and tried to catch striped lizards. We fell asleep with a view of the desert starscape.
We viewed ancient petroglyphs of the Freemont Indians in the Clear Creek valley. Took turns climbing in and out of a pit house while appreciating the cool underground life out of the relentless summer sun. Wondered about how they kept snowfall from accumulating over the doorway in the winter.
Swam at a pond in Hobble Creek Canyon, made sandcastles, ate Cheetos, shared with friends.
Found the prettiest spot in Santaquin Canyon, shrouded in pine trees and hugged by massive rocks. We made tinfoil dinners with eggs and potatoes and drank Catcus Coolers until we were silly. Crossed the stream in our shoes like real mountain folk and sat in the generous shade until the moon came up.
Rode up the Snowbird Tram to the top of Utah, collected granite rocks. This was the day I fell in love with rocks. It's like living on a planet with treasures every where! Rocks in abundance! I can look at them all day long--their colors and shapes, their textures and temperatures. My living room is full of them, like an art gallery.
Stopped into Paris Idaho to pay a Pioneer Day homage to the LDS Tabernacle--the single most untouched Mormon pioneer structure still standing. Had a picnic. Wondered around. Felt the spirit of our heritage.
The girls went to BYU preschool/kindergarten. Ever became a bird expert, Erin examined worms the entire semester. Now we see worms and birds in every adventure we have. Anson indulged in digital planets and played with the neighborhood boys gang. And Pokemon. Iris insisted that every adventure started with her--yellow curls bobbing up and down, up and down and all of us in line behind her--simply infatuated with her everything.
Took the kids to meet their heros, The Aquabats, at the Rooftop Concert Series. Star struck. Totally. Slept at the downtown Provo Marriott after the concert was over. Woke up to, "Did that magic really happen last night?"
Christopher set up and took down the mega slip-n-slide he engineered for the backyard slope maybe 75 times this summer. It never, never got old.
I wore shorts for the first time in my adult life, all summer long. I enjoyed meeting up with dear friends, late nights, story-telling, tarot card readings, waxing philosophical and spiritual, this is our language. My language, the spiritual.
Felt the summer blues, like I always do, just after the Fourth of July. Prescribed patience for myself, introspection and alone time. I have never found a cure, but running away seems to abate it. So we did a lot of that. I survived, it's nice to know myself better and better the older I get.
Decided I have enough to explore here in my own state, my own backyard, I no longer pine for extended global trips. Utah is magic, and I have only begin to solve the desert mysteries.
Fell in love more with Christopher Kendrick this summer. We do this life pretty good together. Can't ask for much more than that.
I really can't.
(I recently did a podcast interview for What Say Ye, it's about Provo, politics, self-arrival, everything. It came out today.
You can listen to it here
. If you're so inclined. I love you either way.)