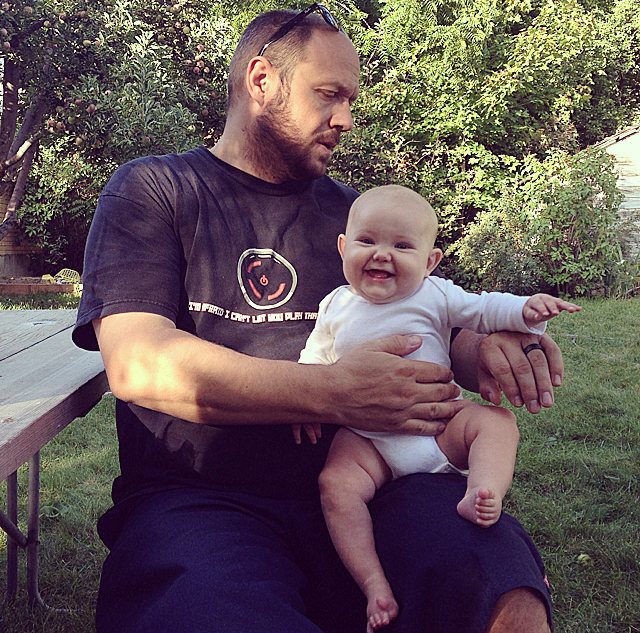 This is how I feel when I get to sit on his lap too, Iris.
Hi so hey and hello.
I have twenty minutes to write and I am sitting here rubbing my chin thinking about what I want to write but at the same time I am thinking I need to pluck some of the more coarse hairs on my chin but I am telling myself to sit here and not get distracted by those hairs because I will feel better after writing than plucking and that's just the truth.
Yesterday was a big day for our family. Anson went to kindergarten for the first time AND it was Christopher's birthday. Sadly for us, Christopher is out of town (I curse you Connecticut) and missed both events. Well, technically he didn't miss his birthday, but don't be coy with me, you know what I mean.
On his first day of school Anson ran out to recess and bonked his head on a bar on the playground. He was ok, a little dizzy, but he told me he cried. That just fraking breaks my heart. I mean, on the first day? That had to happen on the
first
day? Oh boy, what else is in store this year?
I have some pretty sad memories of elementary school. More sad than happy. I know there were happy times, but I retain the sad memories. I don't know why. I always had lots of great friends, and I loved my teachers and I was crazy about learning. But something about the entire experience gives me these lonely feelings. I've been trying to not project them on to my son--but he then he bonks his head on the playground bar at recess on his very first day...
Well, this is parenthood I guess.
It's been twenty minutes and now I've got to go pluck some chin hairs.
Thanks for being here.