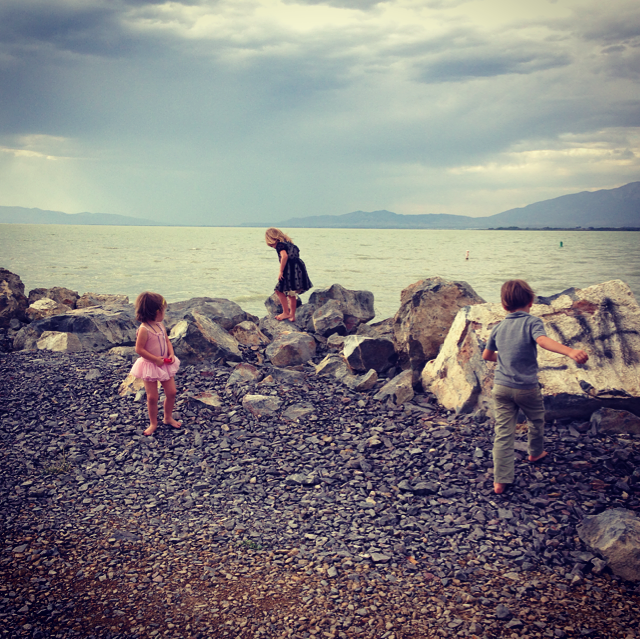 A writing exercise:
Sunday was unbearably hot.
The air in our house was sticky and heavy, filled with busy flies swirling around our bodies. The children continually broke into choruses of cries caused by siblings and boredom both. The swamp cooler smelled like swamp.
"It must be raining somewhere close to us," I said as I fanned myself with my hands, sprawled on the ottoman barely able to move.
And then it occurred to me that I should put the kids in the car and go chase the rain.
We didn't even bother with shoes, we climbed into the car with anticipation and sweat.
We started at the top of the mountain to get a full view of the entire surface of our valley. The clouds were dripping at the far end of the lake, directly west of us.
We set out on Center Street--passing the craftsmans lining the road, through a quiet downtown with red, white and blue flags flying straight on the buildings and rooftops. Then to the rural part of our town--fields of corn and an occasional snoozy horse or two. And just as we entered the Utah Lake State Park our windshield was hit with drops.
Drop. Drop. Drop.
And then a downpour. Dousing the fisherman on the dock, drowning the boaters in bay, splattering the choppy, gray waves as they roared in the wind.
And then it was over. The storm left us behind on a determined pathway to the east. At the end of the rocky shoreline we exited the car barefooted and liberated. The rocks smelled like rain, minerals and earth. And yellow gnats zipped around our heads.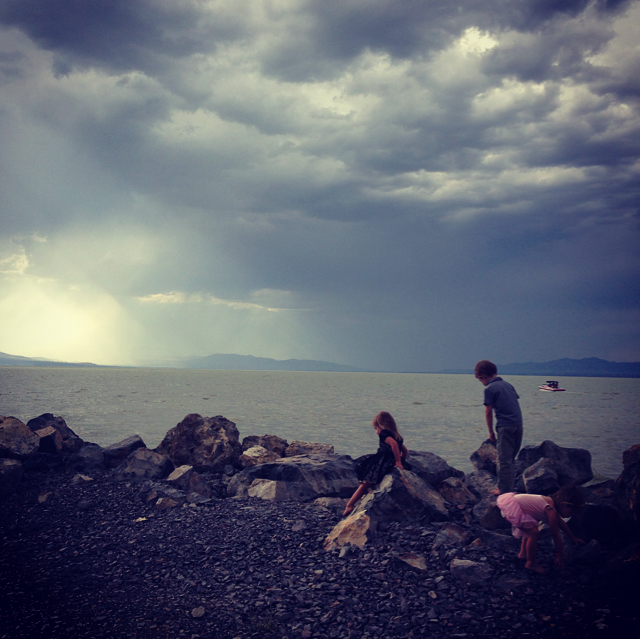 My phone beeped. A message from Christopher.
"Come home, it looks like it's about to rain."
And so we turned around and chased it back, passing the sopping horses, the thick corn fields, the empty downtown with the flapping American flags, up towards the craftsmans on Center and home.
Just in time to catch the first drop.
Drop. Drop. Drop.