My Life Story: London Calling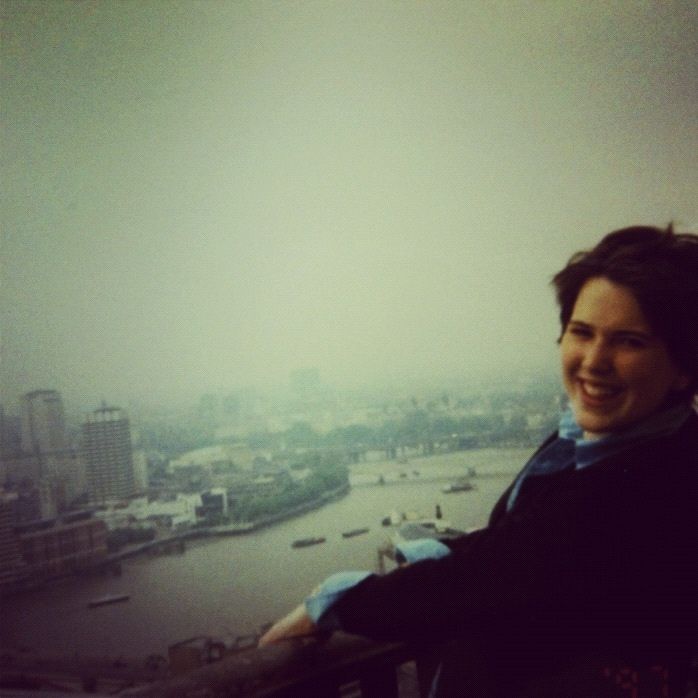 I believe it was an act of God
that sent me to London in the spring of 1997. I arrived there on a coach with dozens of BYU students, good kids who had mostly lived their lives straight and narrow, kept baptismal promises and adamantly adhered to virtuous living. I felt like a black sheep among them, carrying more baggage than just the two suitcases allowed by the study abroad program.
I was a long shot to get in the program. I wasn't a BYU student and my grades at UVU weren't overly-impressive. I figured I was accepted because the program director was an associate of my parents from church. I got the feeling my Dad pulled some strings, said a few words, reminded his friend of favors. My father's persuasiveness was a gift, a talent he confidently used when buying cars and opening doors for his children.
Blessedly my grandfather had endowed me with a trust fund. I decided to use it for education, and along with my parent's help I wasn't worried about money for the trip. A week before I left for London my sisters and I went shopping for a new wardrobe at Gap, including hot items of the mid-1990s--wide-cut jeans, a form fitting black skirt, jean jacket and clunky Doc Martens. I knew I wasn't going to be the smartest person in my traveling group, but I could be the best dressed. Clothes were always my over-compensation, I learned that trick young.
The first person I met in my group was a tall, quiet, dark-haired girl named Becki. She was from Twin Falls, Idaho. I had no idea what Twin Falls, Idaho was like but I had already decided I would NEVER marry someone from Idaho. It was too cliche: Mormon Utah girl marries Mormon Idaho farm boy. And in my silly, small world I wondered if I could ever have a friend from there either.Could I have anything in common with a girl from Twin Falls, Idaho?
(At this point in the story in must be foretold that this Becki from Twin Falls, Idaho ended up marrying a boy named Jeremy Kendrick of Twin Falls, Idaho whose older brother Christopher Kendrick of Twin Falls, Idaho would be my husband, eternal companion and ever-lasting love. Becki and I met in London and now we're sisters who regularly hang out in Twin Falls. Idaho, I never should've doubted you.)
The situation with my boyfriend had gotten severely intense at home. I left him with my parents at the airport and begged him to date other girls while we were gone. I couldn't breathe in Provo, everything was closing in on me. I needed physical space from him, but I also needed mental, emotional and spiritual space. I needed, for the first time in my life, to figure out who I was without familial, cultural and contextual pressures. I needed to find me.
And that is where God comes into this story, who I felt I had unmistakably disappointed with my weakness of characters, the faults and sins I tried to leave at home in Provo. I found Him again in London in the most unexpected places. I found Him in the dripping flowers at Stourhead, I found Him in the faces of my new friends, I found Him at concerts in Camden Town and on late night tube rides home. It surprised me to see that God wasn't just bound by the same lines I had drawn in Provo. God was in London too.
Perhaps I found God most in my professor, John Bennion, who held early-morning writing class in the upstairs classroom of the BYU center. The chairs were always arranged in a circle to encourage a conversation. The content for the class was simple: peer-sharing of personal essay. We were required to write one essay, make a dozen copies, hand out to the other students a few days ahead of time, and listen to their feedback on the day we signed up to share. I loved reading other essays from all the students--some of the essays had a lasting-imprint on my consciousness--and I loved daily writing. It was in London I found the writer I hoped to become.
In order to write my essay, I would wake up early every morning, crossing the busy Bayswater road to Hyde Park where I'd sit in a vine-shrouded garden, facing elegant fountains in a private courtyard, on a wooden bench. In my ears I played Dave Matthews Band
Crash
album, almost constantly, not only while writing, but riding the bus, the tube and as I took in grand vistas of Scotland and Dover.
But Professor Bennion, he was always there with us, his intelligent wife offering her insights, his gorgeous tow-headed children not far behind. He wasn't anything like the male-patriarch prototype I had known. He was completely sincere with his compassion. His sense of humor wasn't corny. He urged us to write with honesty. He was so liberal in thought and love. He was unconventional Mormon. And in those sessions in the upper classroom with the west-end London sun popping through the windows, I learned I wasn't really the only student there with baggage. Professor Bennion helped me see, we all have baggage, it's called humanity.
I started to think, perhaps Jesus Christ was like Professor Bennion--and if He was--I could see Him forgiving me, finding good in me, loving me even though I was completely, horribly imperfect. And maybe, Jesus Christ would believe me--like Professor Bennion--that I never, ever meant for my life to be so disappointing. He could see it was almost like I didn't choose any of it, I just never knew I could choose anything different.
Towards the end of my time in London, after seeing immense beauty, spending nights in clubs flirting with men with sophisticated accents, eating more bread my stomach could digest, testing words of wisdom, falling in love with new friends, finding God in the beat of London, I wrote a letter home to my parents telling them I was giving up on the Provo dream. I wasn't going to marry young, I wasn't going to have a huge family before I turned thirty, I wasn't going to marry someone from Provo--not because I thought these things were wrong, but because I could finally hear God's voice telling me--as He had always told me--these things were not for me.
"When I get home," I told my parents, "I am going to go to the University of Utah with some friends I've met here. We're going to move in together in an apartment in Salt Lake." I wrote the words with a forceful finality, hoping they would read them at home and feel my sincerity. I knew things were toxic for me at home and I greatly feared going back. I wanted to finish my degree in a place other than Provo, I wanted to write and study and learn. I wanted a chance to build a solid character before I shared myself intimately with another human being. And even though this meant I wasn't going to propagate what the women in our family did for generations, I knew my parents would support me in blazing a new path.
They would know, like I knew, that I had found God in London.