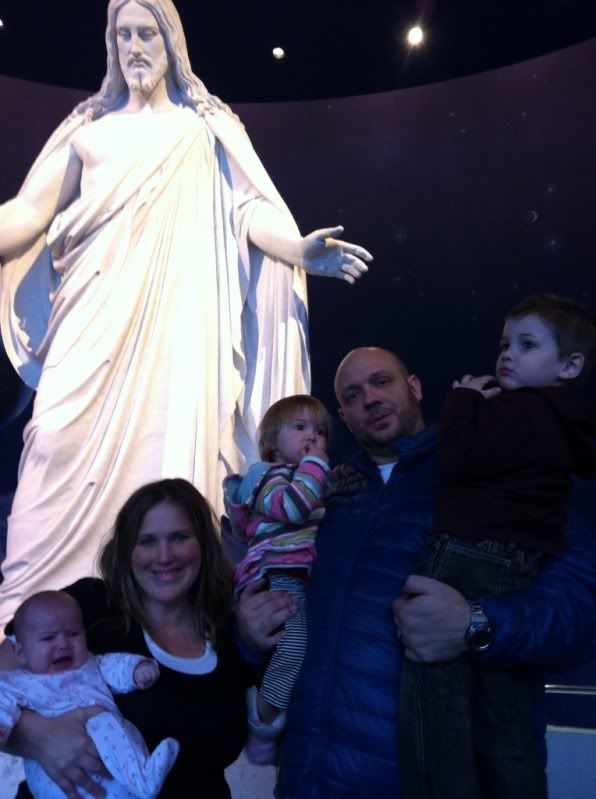 The President's Day weekend storm blew in
some visitors from Idaho. Grandma and Grandpa K plus every one's favorite Aunt Heather. Last night, as we were trying to boil up some interesting plans for the holiday (which sadly included an option involving Joe's Crab Shack) I fell asleep. Some time in the middle of the night I had an idea which included visiting
Temple Square
. The next morning I told everyone about my mid-night urging, and they all were game.
In the afternoon we drove to Salt Lake City, our first stop being
Tulie Bakery
for the best croissants this side of Paris. A macaroon and a bouchon completed our tastings and we were better people for it.
After lunch we all bundled up and headed across a cold, grayish Temple Square to visit the feature known to The Chief
Jesus in Outer Space
.
"Why does Jesus live in outer space?" he asked me as we trek up the winding staircase that leads to the Christus and the surrounding galaxies.
"He made all of this, so He can live wherever he wants," I explain.
"I want to live in outer space," he replies, pronouncing space like its two-syllabled SPA-CEAH.
Whenever we visit Temple Square (not often) we are treated like visiting celebrities. Chup's voice and mug is all over that place, from voice-overs in the South Visitor's Center and his film on families in the North Visitor's Center, to his bit in the Joseph Smith film in the Joseph Smith Memorial Building. It's like running into Johnny Depp for the sister missionaries on site.
(Every few minutes he has to stop for photo ops and we--his entourage--wait patiently, sometimes offering to take the picture for the star-struck missionaries.)
After we walked around, humbly showing-off Chup's presentations to his adoring family, Erin started to fuss. When her neck stiffened and her head stoutly searched for the food my chest provides I asked a set of sister missionaries walking by where the closest bathroom was located.
"Do you want to feed her?" they asked me.
"Yes" I had unwisely picked a dress that required immodest removal before breast-feeding.
"Is your husband . . . ?" they noticed.
"Yes, he is." I replied before they could finish.
They took me to a quiet, carpeted room out of the way of tourist traffic.
"You can stay here as long as you want," they told me, carefully shutting the door.
As I sat in that room, oak wooden chairs, rose-colored carpet and textured walls I thought about how much I love my church with it's unique dogma, eternal perspective and focus on family.
It's home to me.
With Erin being so little, I haven't taken her to church much this winter. I've missed the three hours every Sunday, meeting with my neighbors early in the morning. Being on Temple Square today was a little reminder of how much I love being a Mormon.
I needed this visit.