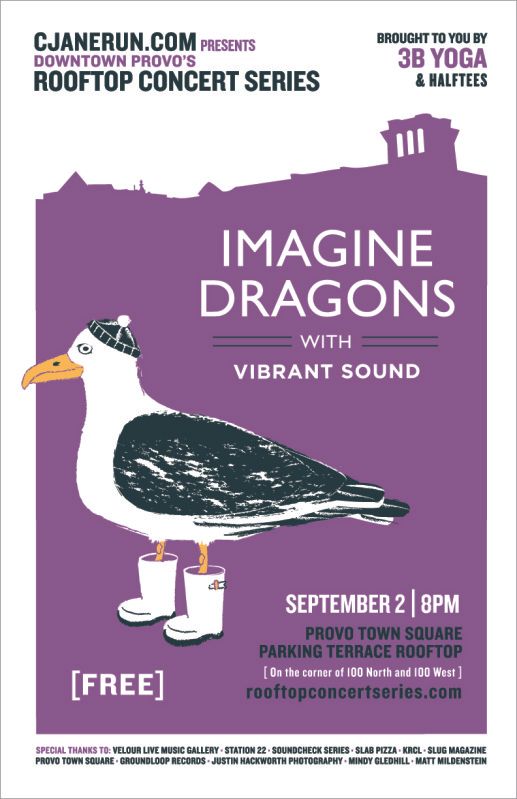 A while back I received an email

from a reader saying she was leaving me.

In her mind I wrote too much about the

Rooftop Concert Series

and it was annoying for the people, like her, who could not attend.

I get that.

But maybe I just didn't explain things well enough: this concert series is presented by this blog. We are the hosts. We've got a big PRESENTED BY slot on every poster. Not posting about our own party is sorta like MTV not advertising the VMAs. Or Burger King not pushing their latest flame broiled bacon burger with MORE BACON. Or you having a birthday party and inviting no one. Who would do that? No one. (People who prefer to be alone on their birthdays, ok, I guess them.)

So maybe you live in Kansas and can't make it. Maybe you live in the UK and a plane ticket isn't possible. Maybe you live in Provo but don't like crowds. At this point the least I can give you is some new music to listen to and something to build a dream on. I hope, anyway.

But know you are all invited whether you can make it or not. Kansas, UK, agoraphobic, ALL OF YOUS. It's a free concert, we welcome the whole planet. Well, except the creepy one-eyed drunk guy who showed up with no shirt and hovered over Mindy Gledhill and her family during the Abbey Road Show in July. He is not invited back. And not because he is one-eyed either. We take all one-eyed people, let's be sure. I mean, we take me and I have a lisp. But who cares? No one shows up to the concert TO HEAR ME TALK. So I've learned.

By the way, this reader who left me? She signed the email, Jennifer, Salt Lake City. SALT LAKE CITY? What if I wrote the LDS church headquarters and said, "Stop writing about General Conference, those of us who can't attend (because we live in PROVO) are so tired of it. I am leaving the church." Ok, maybe that was a jump, but you don't see me complaining when I have to head north for forty minutes for things like Red Iguana, Ikea and a slice of Pailletin from Gourmandise. Sometimes you'll have to humble yourself and come south. It's like a dip in the ocean, after fifteen minutes the water--or in our case, the self righteousness--is fine.

Now on to the matter at hand.

Here are ten things you'll want to know about this concert:

10.

Downtown Provo is going to be hot Friday night.

Hot as in energy, but not really that hot temperature wise (I see a high of 85 degrees). First of all, it's

Festival Latinoamericano

weekend, which means food and festival on the courthouse lawn. Also, down the street at Studio 600 is the Silver Lining Benefit Concert featuring Truman and Shaun Barrowes see

Facebook page

for more info or

blog here.

I also have it on good authority, owner Scott M. Jones from

Jonestshirts.com

will be giving away free t-shirts! Look for the booth with a banner that says "FREE T-SHIRTS" by the Rooftop venue. Plus, there is always the Provo Town Square market directly below the parking terrace where you can get food and fancy crafts as well as prime people watching/ let people watch you. Are you hot yet?

9.

When the mayor told me HE WOULDN'T BE ABLE able to attend this concert

, I immediately thought it was bad luck. He's been at EVERY CONCERT this year and JUST MAYBE he's been our lucky piece. WHAT IF without him our concert will BE RUINED? I type in all caps when I am nervous. So anyway, the

Covey Center

is going to MAKE UP FOR HIS ABSENCE and give away a couple tickets to their 3 MUSKETEERS performance (which you can read about

here

). AT LEAST if things go sour, we know WHO TO BLAME.

8.

I will be wearing a royal blue dress from eShakt

i in honor of the Cougs first game the next day. Chup says it looks good on me, but I've never worn an ankle length garment before. I assumed it was against my rules because I am short. Listen, I know what you are going to say, you are going to say NO ONE COMES TO THE ROOFTOP CONCERTS TO SEE WHAT I AM WEARING. Right? Well, I happen to think you are wrong Just kidding, you're probably right.

Did you know?

You can get $20 off anything at

eShakti

from now until Sept. 15th by using the code:

CJANE0811

7.

We are lucky enough to have Halftee

as a co-sponsor this time again. We really loved working with the

Halftee

ladies for our June concert, they were a party in a sponsor. If you don't know how much I utilize my

Halftee

collection (pregnant, breast feeding, non-pregnant) then you don't know me at all.

And you will never, ever know me. Ohhhhhohhhhhohhhh.

Anyway, as an example I will show you how much I love my

Halftees

. I've worn them to almost every Rooftop Concert in this series:

May-cream 3/4 Halftee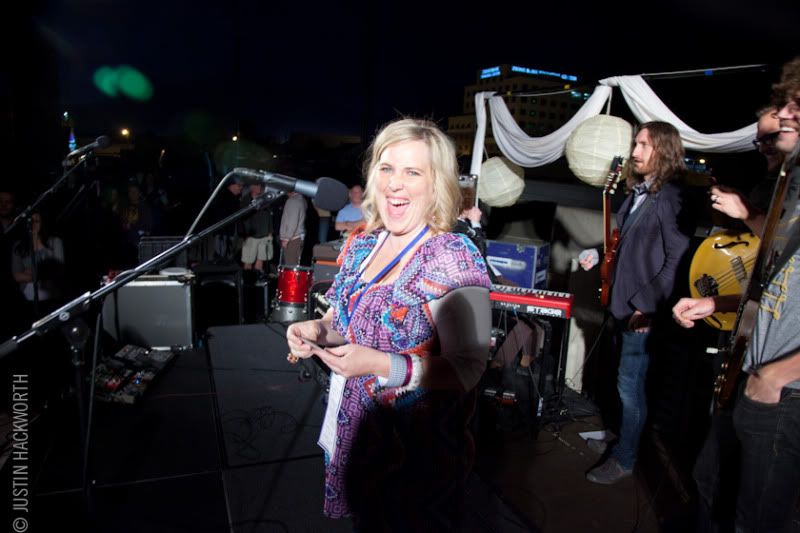 June-black boyfriend (with Halftee owner Amanda Barton)
August-brown original
See Halftee

here

.

Also, want to see me in an

awesome promo video for Halftee

? I am really pregnant (with Ever) and I say "layer after layer after layer" and it could almost be an SNL skit.

6.

We want you to be comfy.

I am talking to you, Kansas, Salt Lake. So bring blankets, bring low stadium chairs (you'll have to get those out anyway, what with the Cougars and Utes about to explode into season) and chapstick. Also, bring your own water bottles and did I already mention chapstick?

And speaking of comfort, people are always asking about bringing kids

. Are we kid-friendly? OF COURSE. The four of us on the RCS executive board have a combined eleven children (with a couple on the way). But children can only last so long, right? You might make it to the second act and have to leave, which is fine, fine. But if you really want to enjoy the evening, you might want to get a babysitter. You are saving money by attending a free concert, so there's that to think about. But we love to see families at our event regardless.

Specifically for this show?

I'd say eight and up is your best bet. It's going to be a really entertaining show with a a high level of intensity. Maybe some bouncing, dancing and craziness. So there's my recommendation but of course I realize NO ONE IS COMING TO THE SHOW TO HEAR MY RECOMMENDATIONS.

5.

You can park in the Provo Town Square parking.

You can park in the Wells Fargo parking structure. You can park on the street. You can park in the stalls on the street. You can eat at any of the downtown eateries. You can park, eat, festival, concert, benefit concert, dessert without ever having to move your car. Parking is free downtown too, even in the parking terraces. Go forth and park.

4.

I can't be TOTALLY sure,

but due to some late night research, I

think Adam Kaiser

from (our warm up band)

The Neighbors

can be seen in this (our opener band)

Vibrant Sound video

with his sister on the couch (hoodie) and is the mustache dancing guy in this (our main act)

Imagine Dragons video

. You tell me, am I right?
img from here

p.s. the other half of The Neighbors? Sister Rachel? She tours with

Brandon Flowers

.

3.

Imagine Dragons just sent us a word

that they will be playing some new material tomorrow night and along with the new material, there will be extra cameras and crew on hand to film shots for some projects they are working on. They said, and I quote "this will be an epic show!" To which I said, OH YOU THINK PEOPLE ARE COMING TO THE SHOW TO HEAR YOU . . . then I realized that's probably true. Sit down! You are so excited!

2.

You will be able to purchase all merchandise

at our merch table in the back of the venue. This includes the Imagine Dragon's album

It's Time

which Vegas Seven just called the "Best CD of the Year." (Yes! We take credit & debit cards!)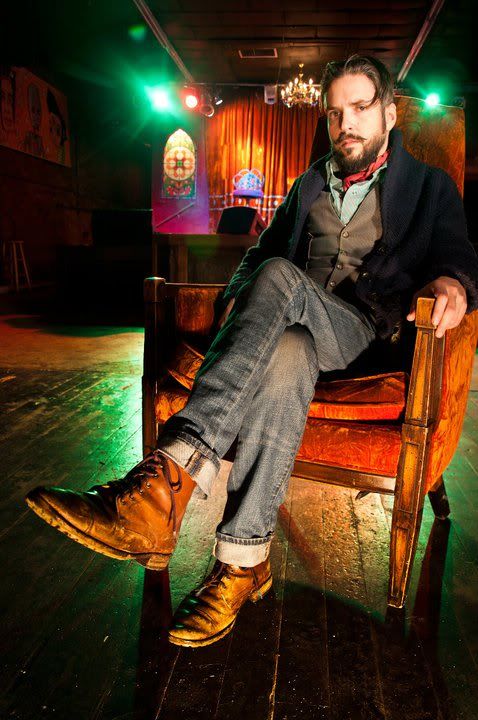 img from here Also to note,

this entire show was curated by none other than the Godfather of Provo Music, Corey Fox himself. Corey runs

Velour

and books both national and local bands to enhance the culture and arts in Provo. You can be sure if you buy merchandise from us tomorrow night to comes Corey Fox approved. 100%.

1.

We have partnered up with 3B Yoga

to make this concert available to the masses for free. This should make you want to hug and kiss the

3B Yoga

people (Nicole) when you see them at the concert tomorrow night (they will have a booth in the back). And if you feel funny about hugging and kissing strangers (though they are yoga strangers, which makes them totally safe) you can thank them by checking out their serene spot in the Riverwoods. Actually, yesterday I was there in the studio and found people in amazing headstands on mats. I called Sarah Wiley and said,

"There were people in headstands!" to which she replied,

"I know, I can do that too."

And that's because she's a student at 3B Yoga.

Keep in mind that

3B Yoga

has a Student Special going on right now, only

$29.99 a month for nine months

. That is so much cheaper than your Gold's Gym pass and you avoid all those gym rats and uncomfortable pick-up lines. (I know, I know.)

But also, yoga is for everyone all the time, but especially in September during Human Power month. Check this out: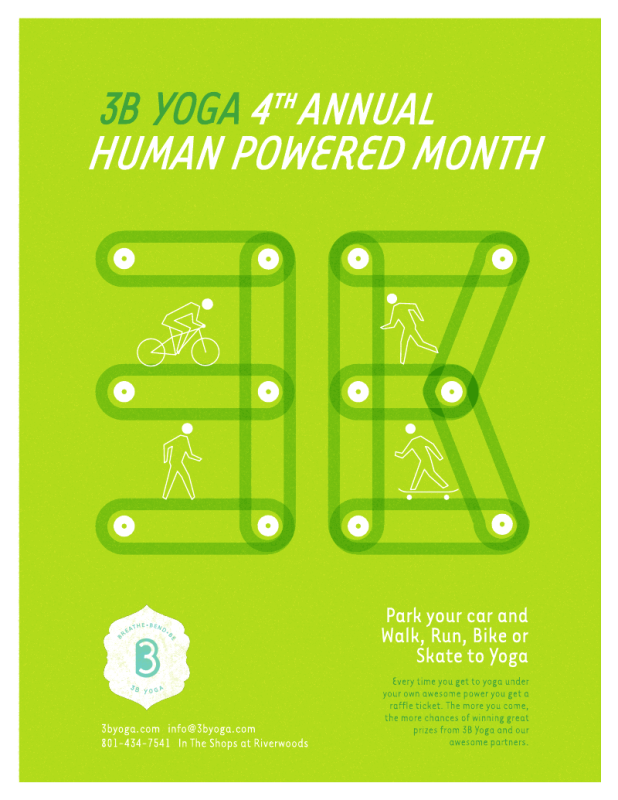 See more about
3B Yoga here
.
Hugging and kissing virtually!
See you tomorrow night everyone.
And if you really can't come consider following the concert via twitter @rooftopconcerts.
We'll keep an eye (or two) out for you.
Can't wait!