Sheraton San Diego Review: I Hope You Like It
I teased about our trip to San Diego in this post earlier last month. This is the actual review of the Sheraton Hotel in San Diego. Read through to the bottom, unless you don't like winning your own Sheraton vacation . . .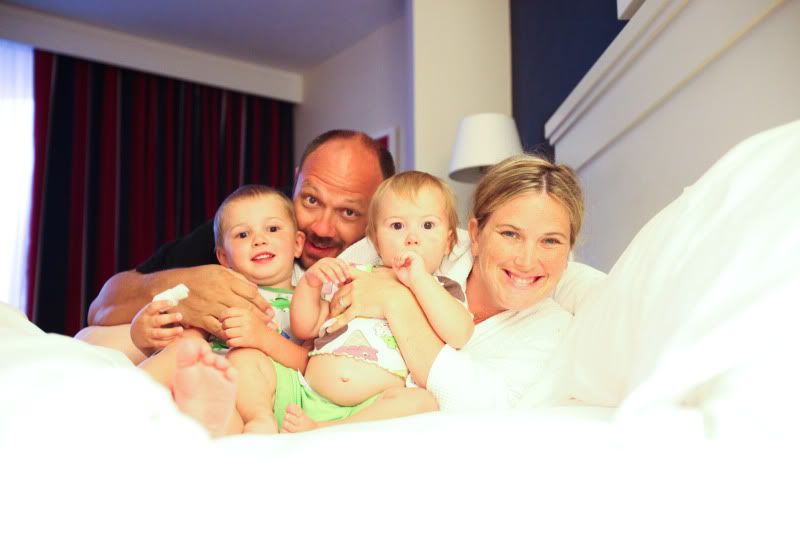 Our vacation profile looks something like this:
One wife
(me) mid-thirties, tired, mostly.
One husband,
late thirties (truthfully, almost forty) tall, VERY tall, uncomfortable easily in new surroundings because of his tallness. Wondering if hotel bed will be big enough to share with wife (above) and his mile long legs. Also: a very frequent traveler, platinum on Delta, trainer, speaker, professional actor/film maker.
Son,
3 years of age, curious, VERY curious, likes to talk, perpetually asks "what?" yells in the face of reverence, recently toilet trained and prematurely handsome. Post note: Intense. Post, post note: ROCKET SHIPS!!!
Daughter
, 1 year old, in constant motion, sleeps with blanky and finger backwards in mouth, excellent at mimicking actions and echoing words, likes to wave at strangers, strangers find her charming, likes cookie consumption, impossibly cute.
When the
Sheraton
invited my family to stay with them in San Diego the first weekend in July, I looked over our profile and wondered how everything would go. How would this be a vacation really? We all had differing desires, needs and wants for a true weekend holiday.
Desires:
Wife:
relaxation.
Husband:
Comfort and shall we say, cuddling? Ok, comfort and
cuddling
with wife (see: above).
Son:
Action (swimming, mostly)
Daughter:
Cookies and attention (from just about anyone, yes anyone will do).
When we arrived at the hotel we were greeted by a doorman who welcomed us as the Jane Kendrick family which Chup said was emasculating. He was joking. I think. Inside I was like, "That's right yo. C. Jane is here with her tapered entourage. Bring it. Woman at the head of thisssssss!" Or something like that.
Inside the lobby there was a line for check ins, so we split duties. Chup took to the line to wait and I chased The Chief and Ever over every inch of that huge, granite lobby. And I mean every inch. Here's a map of Ever's trail alone: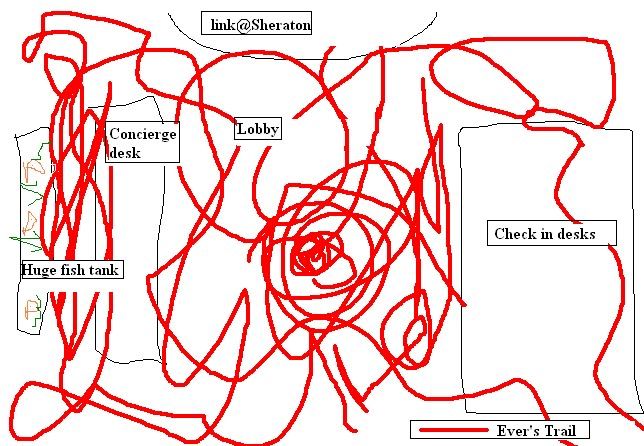 (Sorry for the crude drawing, I am no cartologist)
Just when I started to think about all things taking too long. A friendly hotel employee showed up with two little stuffed animals for each of my children. Ever received a brown platypus with a generous bill, The Chief got an orange dolphin. Did you hear me? I said, "an orange dolphin"! What a delight! It was like we had ourselves a vacation mascot. Go Orange Dolphins!!! Break!
Here's what the
Sheraton
did for my family: they gave us a suite. Then, just because they know that two toddlers would make a post-war zone out of one suite they also gave us an enjoining room. Did ya hear me? AN ADJOINING ROOM PLUS A SUITE! This arrangement allowed for me to assure myself that I would get some sleep, we could close the door to our suite and let the children sleep in the quiet room next door. This also assured Chup there would be ahem, cuddling, ahem.
And the bed was big and the linens were soft. So far, Chup and I were sa-tis-fied.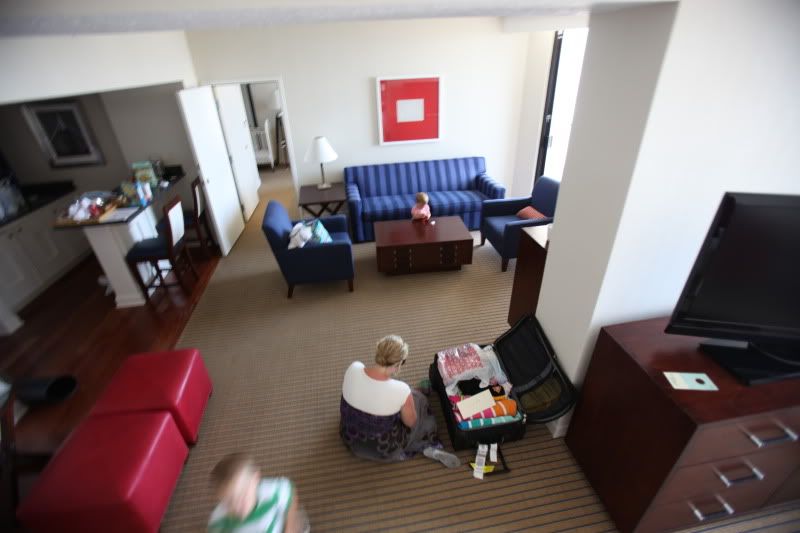 Along with this set up were three big screen tvs, a lounge area, three windowed walls where we could look out at the marina, downtown and the Coronado bridge, three furnished balconies, two bathrooms and ONE ORANGE DOLPHIN!
The rooms had a very beachy feel. Blue with dashes of red and white. It was like we were staying on an upgraded schooner. I have no idea what a schooner is.
When we arrived in the room there was a little note for us, it was addressed to
Mr. Jane Kendrick
. Suddenly I was the one emasculated. (If that were possible.)
With our needs met, we turned to the children (always meet your own needs first, like any good parent) Ever was still attempting to eat the platypus--bill first--but The Chief was ready for action. Action that involved water, legs-and-arms motion and his shark swim trunks.
There are two pools at the hotel for guests. They both sit next to the dock, so it feels a little like swimming with the sailboats. Which is a dream of mine. You know. Did you know? Now you do.
While we were at the pool a lady in the lounge chair next to us said, "Please don't let my husband see your children. He will fall in love with their brown eyes and he'll put more pressure on me to have one." What I didn't tell her was that Ever had spent ten minutes previous waving and flirting with her husband while she was engrossed in her book . . . or maybe it was a novel? About Vampires? Are people still reading those? Anyway lady, you're welcome and enjoy!
One of the sailboats next to the swimming pool was actually a pirate ship with pirate characters scrubbing the deck. The Chief was fascinated with this and so was I when we yelled, "Hi Pirates!" and they responded, "Ahoy There Mateys!" I mean, what a perfect reply right? Unfortunately though, we did not have the time to ask if they actually eat Booty, like we do. We eat a lot of Booty.
We decided on room service for dinner that night (the children were understandably wiped) and had such a great experience with the fellow who brought it to our room, we ordered it again the next night. But also, because we had a kitchenette we bought food at Trader Joes and had snacks on hand in the cupboards and in the multiple fridges. Which means, yes, Ever got her cookies.
We also enjoyed having breakfast each morning in the large dinning hall downstairs. It's like a 1940's inspired club room with large windows over looking the water, and waiters in white uniforms bowing and saying things like, "of course." Chup and I were beyond grateful for a family-friendly environment in the restaurant. Crayons were served with cups with lids and straws. There was also a Starbucks next door to satisfy the weirdest pregnancy craving I've ever had: hot chocolate in the middle of summer in Southern California. I can't make this stuff up!
Another bonus to the
Sheraton
is the location. It's actually across the street from the airport. This meant that we didn't have to haul things far to get to our hotel, nor did we have to haul things far after we left. Our rental car place was also down the street and the convenience of having everything so close was stellar. The Orange Dolphins were happy about that. But it also meant that we were centrally located. Downtown was around the corner, Old Town was up the street and when we went to Coronado for the day it was easy as hopping on the freeway just outside the hotel's entrance.
And yet, because the hotel is on the bay, you also get a feeling you're seaside. You see? See side?
Lastly (what? Am I wrapping up already?) I wanted to mention that one day as we were soaking in the hot tub (me, only the legs, I am incubating you know) we met some locals. They actually drive into town a couple days a week to swim and use the Sheraton Fitness (gym) and, I assume, wave at the pirates. This was really interesting to me because I am a pro-local. I'll trust a local over a guide book any day. So I grilled them for twenty or so minutes about why, when there are hundreds of hotels in the area, why pay to use the Sheraton amenities? "It's the best deal, best location, best pools," they testified.
And so unless those locals were planted by the hotel, ("we'll pay you to go out there and tell the lady how great we are!") I am going with the locals.
Great hotel. Good for kids and better for parents.
The Orange Dolphins for the win!
WIN your own trip & your own mascot!
Sheraton Hotels & BlogHer have teamed up to give away a seven night getaway! You can choose from six destinations which have been reviewed by bloggers like me. The prize is worth $2,550. Wowzer. Go
here
to get started.
.