Gala 2011
Just received a text
from an anonymous sister of mine. It was urgent.
Please post cute pictures of me on your blog from the gala, because
Steph
posted
a real doozy
.
And you know, I like being the hero.
I suppose I should've posted these a while ago, our
Clark Family Awards Gala
was held last Thursday hosted by (as always) the extravagant
Topher
and
Lisa
Clark. The menu included stuffed mushrooms, linguini with Gorgonzola cheese sauce and a patriotic berry trifle.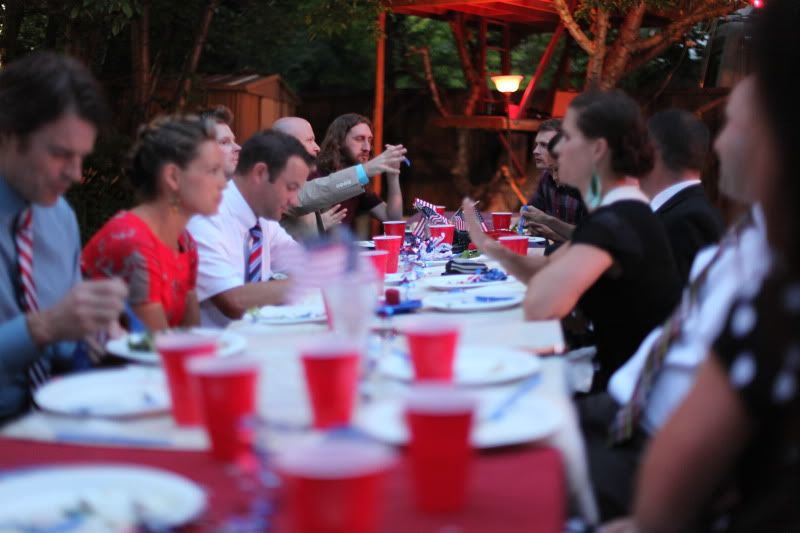 I know you want recipes, but that's the joy of the Clark Family Awards Gala. I don't do the cooking. Lisa does.
Chup and I sat by Andrew and Megan. I really like this shot because Andrew and I were planning something secretly fantastic about to occur during
The Abbey Road Show
the next night. Let me just say this: it was explosive.
Mwhahaha!
I call this next montage People You May Know or Not Know From the Internet:
Next came the awards ceremony. We give awards to two or three people in our family who have done something significant in the past year. I mean
besides
me. I can't possibly win EVERY time.
Ha! I use that joke every year. Anyway, I write up a little essay about them, the point of which is to make them cry.
By the way, I got my dress from
eShakti
. They sent it to me. I mean, I picked it out and they gave it to me. It's really whimsical and Grecian and I felt quite feminine in it. Alas, I don't think my chest/shoulder structure was made for it and I've decided to give it away. Wanna win it for you or a friend who wears my size? Check out
my facebook page
.
It's a romantic shade of aqua blue:
And the beading is gorgeous.
Why am I giving it away again?
Also, my vintage earrings, authentic 70's wrist cuffs and aqua marine giant stone are from
Darlybird
. I also got a tiny diamond pin for my hair which you can't see but you'd love if you could. Darly is perfectly cheap and chic. Two words you might use to describe me.
On to the night... the first winner was our sister in law Lindsay for her energy, selflessness and endearing spirit. When she won the award she got up and did zumba for everyone.
Before winning: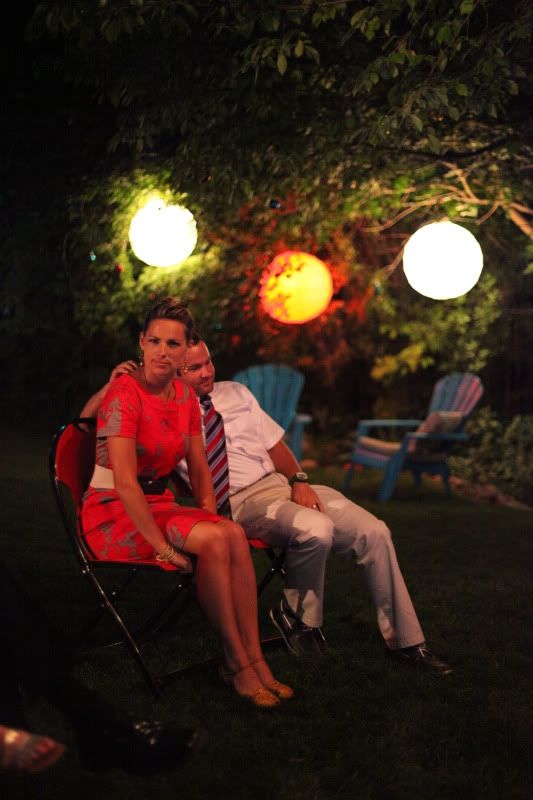 After:
She has five kids, what's my excuse?
My brother Matt also won for being a loyal, wise, kind and patient brother/husband/father. He also has five kids. Plus, he's a Mormon Bishop--which you should know is a really intense NON PAYING gig. He's got a huge heart:
We make the winners give speeches. That might be the worst part of winning. Best part? Gift certificates to
Communal
!
On to the entertainment, this year I was able to convince
Fictionist
to come and play a lite acoustic set. What we got in return was a show delivered from the tree house, some surprise requests and a drummer (Aaron Anderson) who pounded an old guitar case. Mmmmmagical.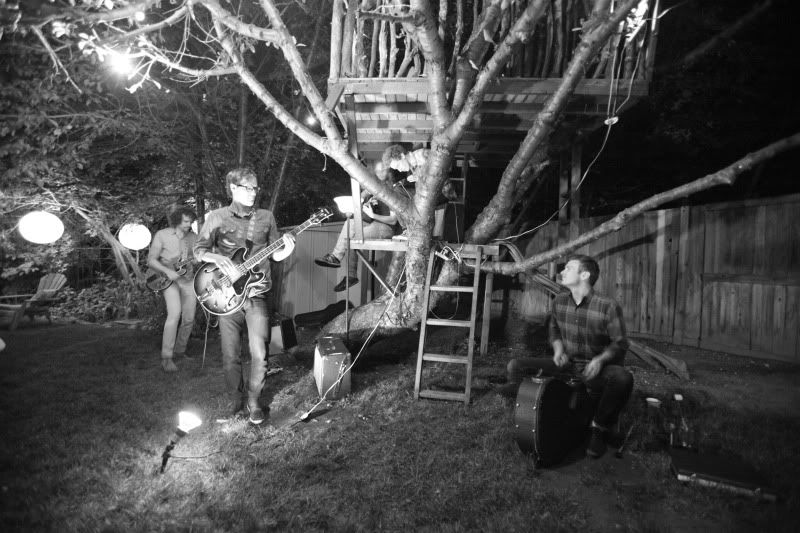 We'd also like to thank the ladies of Fictionist (Melissa, Brittney and
Caitlin
) whom I equally adore--seen here as Aaron tells us about a very unfortunate event in his life featuring Lady Gaga, Baby Gaga, Facebook and his soon-to-be Mother in Law. You can imagine.
Who hearts Stu? Who doesn't?
Now the obligatory Sister's Picture. Especially mesmerizing of that anon sister of mine.
I suppose I should've cropped my elongated arm, but who has the time?
And this is for the parents in St. Louis. All the children except Steve and Suzanne. Unless there are secret children we don't know about. THE SHAME!
Courtney and Chris Kendrick (ahem, us), Megan and Andrew Clark, Page and Vance Checketts, Lindsay and Jesse Clark, Lucy and Andrew Beesley, Stephanie and Christian Nielson, Katy and Matt Clark, Lisa and Topher Clark.
Man of the hour, Topher Clark:
I don't have to say this, but it might have been the best year yet. Incidentally, it's also the longest post-gala report I've blogged about yet.
Oh and
Ashlee
did my hair and Steph's dress in
Anthropolgie
and Lucy's dress is
Shabby Apple
and Page's genie pantsuit is from who knows where? (PEOPLE ASK ME THESE . . . I AM TRYING TO GET IT ALL IN SO I DON'T HAVE TO ANSWER SEPARATE EMAILS . . . AGAIN, WHO HAS THE TIME???)
And that is all you want to know about the Clark Family Awards Gala.
Don't forget to
win my dress
.
p.s. If you are good boys and girls I will post a special video of the night later this week. It's tasty.
p.p.s. Up next on the blogging docket, the most incredible Rooftop show. I am still dreaming of it.
p.p.p.s. There were a lot of errors in this post when I first published it. I feel there might be more I haven't caught. I am sorry. I still have Fourth of July brain. Also known as FIREWORKS HEAD.