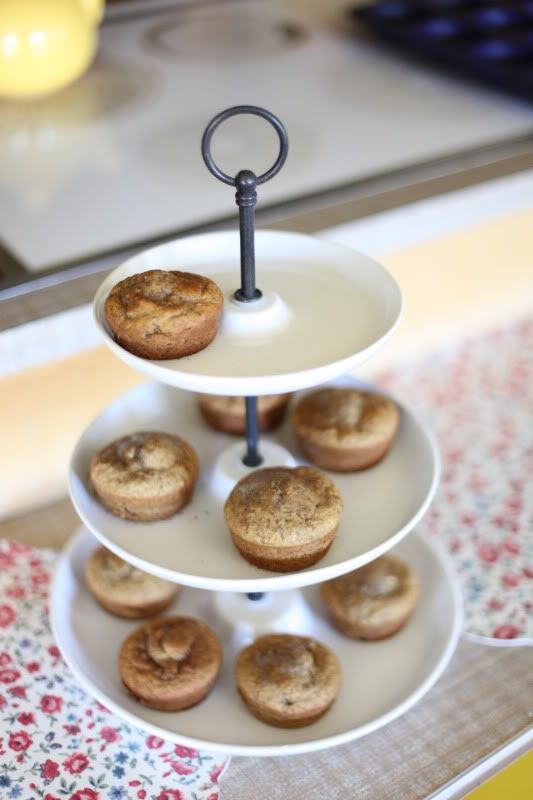 There was some,
well,
discussion lately
on whether my blog is a Mommy Blog, specifically a Mormon Mommy Blog. I say, no. Some say, yes.
But if posting my favorite recipe makes me a mommy blogger then so be it.
And if that recipe happens to be bran muffins, and that admission makes me seem even more Mormon than I was before, then again, so be it.
I just can't inhale another breath of oxygen without sharing this recipe for the world. Not an inhale, nor an exhale. Not either or neither or whatever.
These are called
30 Day Bran Muffins
. I am telling you this title because the title is what changed my life. You see, the 30 Day refers to how long the covered batter can last in your fridge without going gloopy, glopy or sprinkled with blackish green bumps. Which means, I make a load of batter one morning, and for a week we are baking fresh, piping hot muffins without having to whip them up daily.
You follow?
One batch of batter will take us through the week. We eat about six of these branfabulous muffins a day. And if we don't get through our half dozen in one day, I throw out the old muffins because REMEMBER? the next morning I bake new ones.
Now listen, they are just bran muffins. There's no sprinkle or shine to them. I baste them with honeybutter right out of the oven and it makes them sweeter. Sometimes I throw fresh raspberries into the muffin tins with the batter, sometimes banana, sometimes fresh blueberries from
Passionista's
farm in Washington. If I am emotionally dependent on food one particular morning, I resort to chocolate chips or my old standby, Nutella. See that sky? That's the limit on these ladies. These bran muffin ladies. Break it down.
4 cups All-Bran cereal
2 cups boiling water
1 cup margarine*
2 1/2 cups sugar*
4 eggs
1 quart buttermilk
5 teaspoons baking soda
1 teaspoon salt
5 cups flour
2 cups Bran Flakes cereal
*I use butter instead of margarine and brown sugar instead of white. But do your thing. Don't let me stand in your way.
Pour boiling water over All-Bran cereal and let it sit. Cream butter and sugar; add eggs then dry ingredients alternating with buttermilk. Mix in All-Bran and water mixture. Last of all, stir in Bran Flakes. Bake at 400 degrees for 15 minutes in a greased or paper-lined muffin tins.
I found this recipe from a stylish cookbook I use daily, called
Favorites
by Grace Ivory Little & Jane Ivroy Metcalf. My mom bought it many years ago from the
Salt Lake City Art Market
and I stole it from her shortly after that (see:
previous post
). Oh stop looking so appalled, everyone knows my mother doesn't cook.
Thanks to my friend Natalie, I just discovered
Favorites
online and ready for sale! Yahoo!
See here
!