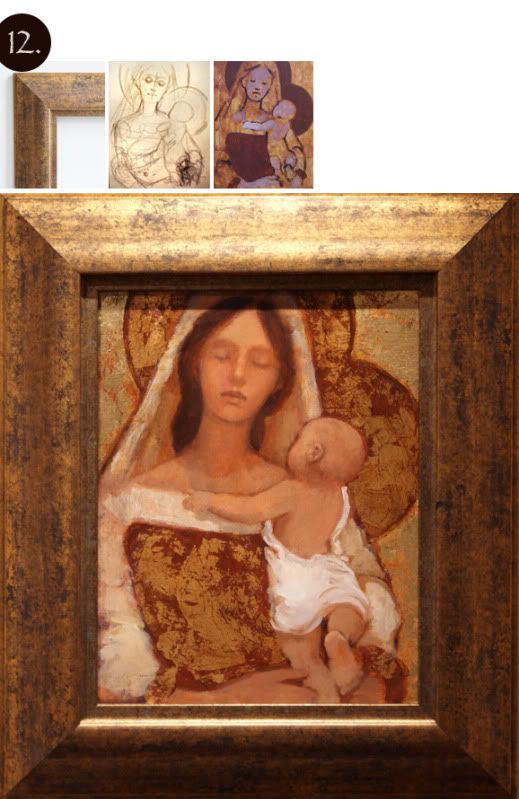 Friends of the Blog,
Another letter?
I am sitting here wondering how do I collectively thank thousands of people all at once.
Not only did you help me with
Fictionist voting
(even my sister Lucy voted!) but also for helping
Kirk
and me out with the
Mother and Child project
. Thanks for helping us choose the paintings for the Mothers Day Cards and fine art prints. The
announcement has been made
and choices picked.
You can go
here to find out which ones won and

start shopping
. I know I might be a wee bit partial but I think they'd make perfect gifts for the women in our lives--anyone who has a mother or is a mother (shouldn't that just about cover us all?). And amazing prices for prints of original work, I will also add. (But I will now stop because I don't want to get sell-ish).
I feel this is such was such a worthy project because:
The opportunity to collaborate with an artist I admire and appreciate is so very exhilarating.
The theme was very close to my heart and I suspect close to many of my readers as well.
It was thrilling for me to expose new lovers of art to Kirk's work.
Half of the proceeds will go towards a really cool cause, Camp Kesem--for kids whose parent's have/have had cancer.
This will always be one of the highlights of my blogging career. Again, thank you. I have always thought that the best way I could thank any reader is to promise my best writing here every time you click on my blog. I don't always make it, but I am trying. I am trying because you are so generous. That's the truth.
Love me (again),
C. Jane
p.s. I wrote a post last year about being a mental hoarder. It ends with a garage sale. I think you might be interested in some of the ticketed items. I don't even know what that means, but you can read it
here
.