Selfish or Lucky? A Wild Weekend
Not that you log on to this site to read:
about my weekend.
But it was a really cool weekend. But I can't tell if it was cool because I was lucky or selfish.
It commenced with my trip to the
Beehive Bazaar
--a semi-annual arts and crafts fair held here in downtown Provo. Some of my favorite local artisans were there selling their wares.
Darlybird
,
Beccy Bingham
,
Susan Peterson
,
Annie Kershisnik Blake
,
Ash Mae
to name a few.
Chup and I had worked out this deal where I got 30 minutes of no-children shopping while he scrubbed the bathrooms at home with the children for an exchange of...I forgot the exchange. How selfish of me.
I found the best bracelet at Darlybird's booth. I actually just put it on my wrist and continued shopping and when it was time to check out I was sorta accused of trying to steal it. Oops. Lucky I know the gals who run the BB and they were sorta just kidding about accusing me of trying to steal it.
(I will not link to the bracelet I got at Darlybird's booth because I want to be the only one in the world to own it. Selfish again? Guilty.)
As we were eating dinner that night we had a knock on our door. It was some carolers dressed up as BYU students and one guy who looked like a shepherd/doctor. I started to enjoy the music when I caught the eye of one caroler who suspiciously started hinting for me to look to my left.
And that's when I saw the llama.
For the record, The Chief was not impressed with the llama but the rest of our household was very impressed.The caroling on the other hand was so-so. The llama made up for a lot.
That evening Chup and I
put on our skinny jeans (nope) and went back downtown to see our new favorite band
Fictionist
perform at Velour. When we got to the door Chup said,
"Yes. I think we're on the band's guest list."
And they said, "Nope you are not on the list."
And I felt stupid event though I knew we really were supposed to be on the list.
They said, "Wait here." Then they got on the phone and started mumbly talking to someone, meanwhile Chup and I tried not to look like the old folks from the old folks home at the downtown concert venue.
Five minutes later, Jacob Jones the keyboardist for Fictionist came out and said to the door people, "Oh these guys are with us. Absolutely."
Luck strikes again.
We found seats on the side of the floor and enjoyed just about the best concert I've seen maybe ever. It was loud and wild and rock and roll. Who plays rock and roll anymore? Fictionist. I got prickly skin and my soul wanted to fly (that means Fictionist is true).
After the show Chup asked them if they had and XXXL t-shirt for him to wear. And they did! Luck! But when we got home the t-shirt didn't fit (too small!) so guess who got a new huge lounge shirt with her favorite band on it? ME! Selfish?
On Saturday
we received the whole Nielson gang, which as you will recall give us six children to care for in four days. We always feel lucky to have the Nielson children, the girls help with Ever and The Chief's favorite past time is Olliegigs (the combo of Ollie and Gigs).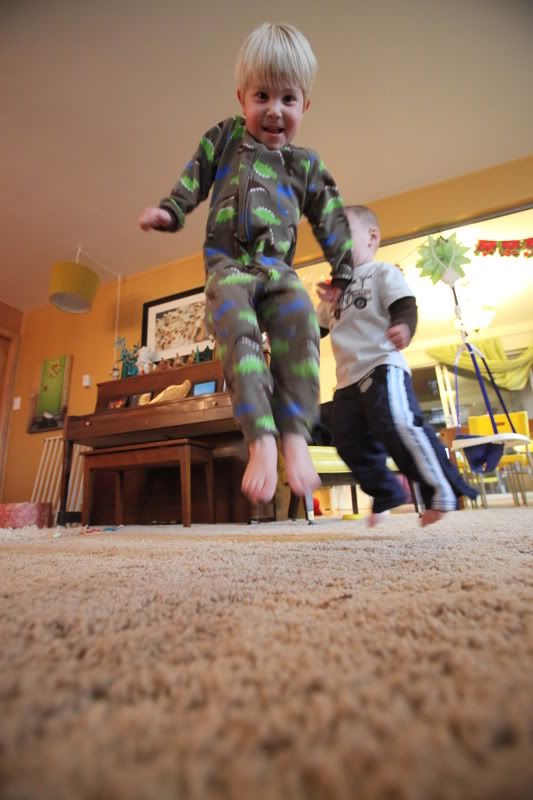 That night we went to our ward/neighborhood party and though we were super late, Sister Hulick let us have the last five open chairs at her table. Even more lucky? The kids were the first in line to climb on Santa's lap later that evening. We were in, we were out.
(Thanks Cobia's for a classic ward party with potatoes, ham and the bishop singing!)
Anyway.
I had to write this really rushed because I was making mini-pumpkin spiced muffins this morning and forgot to put the chocolate chips in and the kids were really late to school (don't tell Stephanie) and I spilled water all over the kitchen floor and then Ever Jane took a tumble down our little staircase (don't tell my mom) and I feel like my brain has the hiccups.
So as lucky as this weekend was it seems my luck has completely run out.
Hello Monday. So soon?
Here is the story: $200 giveaway to Darlybird plus a discount for c jane shoppers.
Run, don't just click, over.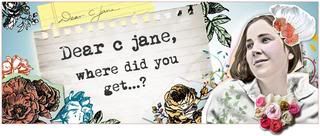 I am C. Jane Kendrick and yes, that is me in the dogpile.
c jane on facebook
c jane on twitter