I Hope Everyone Can Sponsor A Concert Series Someday, It's That Fun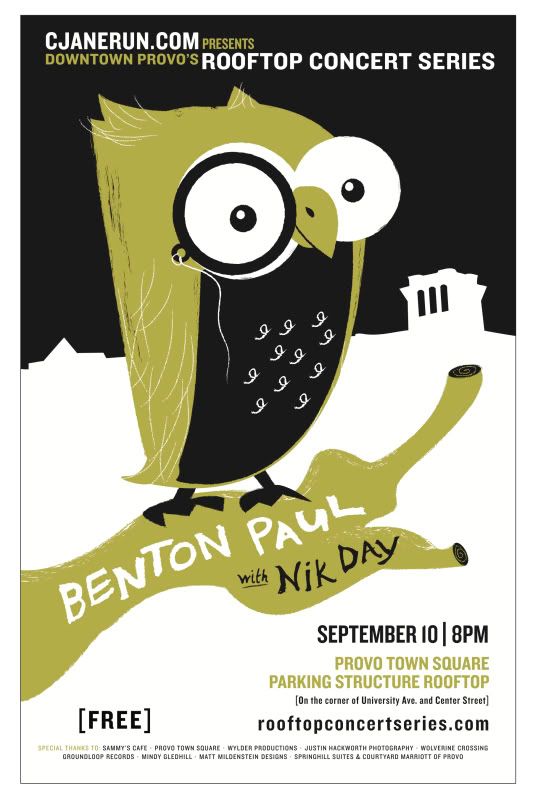 When I told Chup
I wanted to sponsor the
Rooftop Concert Series
(aka put up some cash) he was really supportive, but we had no idea what that would entail. We love downtown Provo and want to cultivate a place of art and music, food and culture for us and the generations that will follow down the line. It's been a new venture for us and it's been thrilling,
even the drama
.
I did an interview for the
Daily Universe
yesterday and they asked me, "How are you able to offer the concert for free?" and I was able to respond like this, "When people believe in something like the Rooftop Concert series they are willing to donate whatever they have to make it happen. We've had donations of all varieties--talents, time, money--from artists, musicians, photographers, writers, chefs, landlords, concert promoters and forward thinking residents."
Isn't that cool? People who give are the best kind of people.
And the person who has given the most has been Sarah Wiley and I want to thank her publicly. She has the unbelievable talent of managing all the donated time, talents and money. Hats off to you Mrs. Wiley!
I know not everyone reading this right now will be able to attend our concert tomorrow night, but this adventure has been so centric in our lives right now that I can't ignore it here on my blog. But if you can come tomorrow night, I really hope you do. It's going to be unforgettable.
(Bring your chairs!)
And a little taste of that dreamy Benton Paul:
I am c jane and I wrote this post with The Chief on my lap. That is talent.
contact me: cjanemail@gmail.com