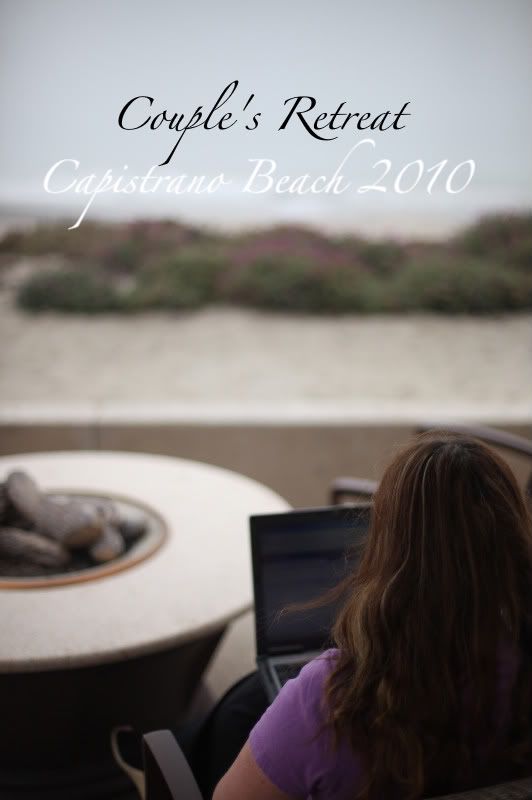 --The Players--
Couple One:
Wife: La Doux
Husband: The Mayor
Couple Two:
Wife: Cousin
Husband: The Cleanser
Couple Three:
Wife: Biblemom
Husband: The Piano Man
Couple Four:
Wife: c jane
Husband: Chupa
Character Sketch:
The Mayor's family owns a beach house on Capistrano Beach. He likes to talk and usually when he does I laugh. He's sarcastic and speaks with a slight So. Cal accent. His wife La Doux has a brain full of intelligence and she's incredibly easy on the eyes. The Mayor is the voice of the trip, La Doux is the director.
They leave behind four children.
Cousin is actually my cousin. She likes Pepsi, Hot Tamales and Subway sandwiches, which The Mayor calls "Ho Hum." She is married to the Cleanser who is in fact cleansing on this trip. To give up eating Mexican on the beach he might be out of his mind, but I think he's just hardcore.He's also known to wield a camera.
They leave behind three children.
I am still getting to know Couple Three. So far The Piano Man has cracked a few jokes to great applause. So I'd say he's on the funny side. Biblemom is bright eyed and likes Bible names. She is also carrying along a little boy, Jonah who we might need to add to Ever's suitor list.
They leave behind two children.
Then me, then Chup, then Ever. My goal here is to improve the relationship with my husband through modern psychology infused with energy therapy and atmospheric analysis. Just kidding about all that. Chup just wants to put his feet in the ocean. And Ever would like us to bury her in the sand neck up and take photos. Just kidding about that too.
What are we doing on our Couple's Retreat? I don't know, but here is a discussion I had with The Mayor as we were leaving for the ten hour car ride:
c jane: We are leaving later than I thought we would, I am concerned.
Mayor: What are you so worried about?
c jane: I don't want to miss registration.
The Mayor: What? There's no registration.
c jane: I don't want to miss orientation.
Mayor: What? No orientation.
c jane: The first keynote speaker.
Mayor: What? No keynote.
c jane: What are we doing down there?
Mayor: Eat and sit on the beach. That's it.
I am hoping in all that sitting and eating there will be stories to tell.
Like
Geo
said, "
Hope your retreat is so good you have to edit."
We shall see.
I am c jane and I just told everyone their retreat names and nobody was happy. You can't win them all.