Please Meet My Friends Reagan & Piper Jane


A couple months ago
a certain Reagan from
Reagan's Blob Hooray!
emailed me about her daughter Piper who lives in a hospital. I couldn't wrap my head around that thought, having a child who lives in a hospital, so needless to say, I thought about this email a lot.
And then, in my blogging travels I happened to visit
Reagan's Blob Hooray
! and cybermet Reagan and her tiny hero of a daughter Piper Jane and I fell in love. I can't see how anyone could visit this blog without becoming a Super Fan--of Reagan because she's beautiful and stylish, but oh-so-funny, but also her handsome, talented husband Jake and of course, our unsinkable Piper Jane.
I emailed Reagan back and begged her to guest post for me. I asked, "Will you write about that moment when you have to say good bye to Piper at the hospital and you feel your chest all heavy and HOW DO YOU GET OVER THAT FEELING?" Because I wanted her to tell me something that would calm the mother in me. I wanted to know that if I had to, I could do it too.
This is her response.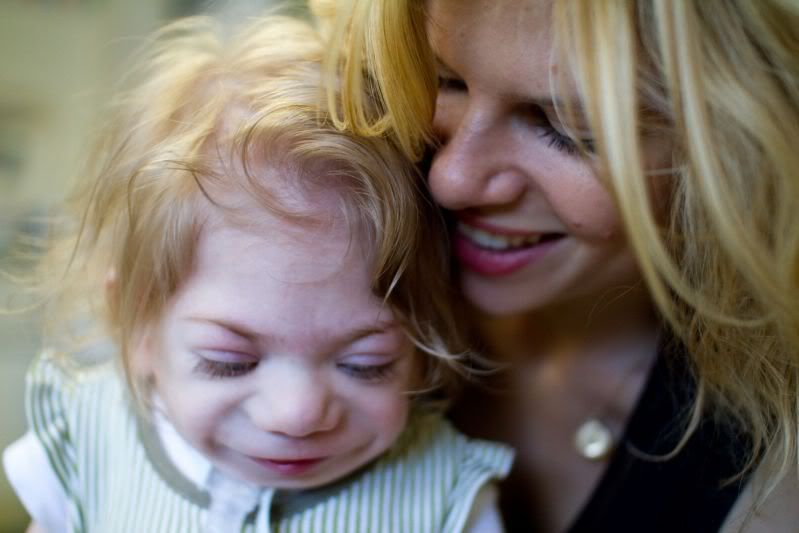 When I leave Piper's house on a good day,
she's distracted by a toy or a book and the sting of separation is faint. We played on the floor, she likely tried to pull my earrings out and she pretty much mauled me with Pippy love for the last few hours. I smile that the visit was successful and I get in the car already looking forward to the next time I can see her. When I leave on a bad day, she makes a puss face, holds onto the bars of her crib and watches me leave. My chest is heavy and I hate myself for having obligations that take me away from her. I get in the car and put on a french song that I'm pretty sure translates to exactly how I feel (I don't speak french, for all I know the song could be about total nonsense, but please don't tell me the song is about total nonsense), and cry medium to gigantic tears on the way home.
Piper Jane is my three year old daughter, and she lives at a rehab facility about 30 miles outside of Manhattan, where my husband and I live. She has never been home with us, and has spent her whole life bouncing from one hospital to the next. She has a rare condition called Cerebro Costo Mandibular Syndrome. Her tiny little Pippy body is effected in many ways, but probably most severely in her rib cage, where she only has half the ribs she should. Having a small rib cage prevents her lungs from expanding all the way, so she is very dependent on a ventilator and unable to come home.
People ask me sometimes what it is like for me to not have the Pip at home and how it feels to leave her. It's never easy, it's a little isolating at times and often I don't feel like I can call myself a real mom. I feel guilt for my good health, having a job, doing fun things with friends and not being able to see her every day. When I'm asked these questions, things stick out to me like the time I came home to my husband taking apart her crib after realizing it wouldn't be used for a very, very long time. That one was hard for us, she was 7 months old.
I can vividly remember the shock of finding out my baby was sick while I was 17 weeks pregnant, the annoyance of tests and three times a week ultrasounds, the trauma of her early/emergency delivery and the endless worrying during her first fragile year of life, but I can even more vividly remember my favorite visits with her, and the hilariously adorable things she does. Her milestones are really marathonstones, <-let's pretend that's a thing, and we celebrate achievements that might go un-noticed in a more normal family situation. It's our way of coping, surviving and learning to love the trials that the three of us have been given.
She is scared of feather boas and hand puppets and lays face down with her hands over her head to hide from them. She turns the pages while I read to her, holds her arms out when she wants to be picked up and that Pip even puts her arms through her sleeves all by herself when I dress her. One day I discovered that Piper Jane recognizes me and I'm pretty sure she even knows I'm her mom. It became obvious that I'm her favorite. Booyah. Don't be jeal!
Just after she turned two, I got a video message from Jake of that little Pipsqueak standing up for the first time, in her crib, holding on to the bars with the most wobbly knees and biggest grin I had ever seen. I know the first time standing is a big deal for every child, but for a little Pip it is even more of a challenge, and we all went ape. Bakers (my family), Breinholts, nurses, childhood friends, former roommates and coworkers all going ape in honor of a Pip. Let me know if you want to go ape with us next time. (secret-I don't really know what "go ape" means)
Sometimes Piper Jane gets sick. Almost every winter she gets a nasty infection or pneumonia that sends her to the PICU. She has had every kind of line (IV, PICC, Art, IO...) you can get and looking close at her little body can feel like looking at a pin cushion. She has been hooked to a room full of huge machines, given heavy medications that induce a coma and had allergic reactions that cause her little body to swell so much that she is unrecognizable. We don't leave her side. We don't sleep and we don't eat enough. We sit by her bed for several hours without saying a word. We pray, we cry and we wait. And then she gets better. She always does. Pippy fights and kicks (literally, she kicks) until she is well. She spends the next few months recovering and she starts back up with therapy to regain the progress she lost. We hate those times, they are scary and hard and it hurts more than anything to see your child so sick. We worry that we'll lose her. We worry that she wont recover. And then when she gets better we try our best to appreciate the sunshine she brings us. Like that one time she looked down my shirt and laughed.
We carry on as if it's all normal. We have to, it's the only way we can be happy and thankful. Jake let's me fuss to pieces over doing Pipsey's hair and dressing her in miniature clothes so cute I want to both decorate my apartment in them and eat them for a meal...and he stays up late making her a custom chair that's just her size so she can use it for therapy. We both melted into soggy puddles this year when she was interested in her birthday presents for the first time. Last December we talked the whole way home about how she pounded and strummed the volunteer's guitar at the Christmas party and then turned around to make sure we were watching her. We put on our nicest clothes and take family pictures. We use the Pandora app and sing songs together (Piper hums her own little song). We lay on the floor and let that Pip go to town studying the inside of our noses, poking us in the eye and tapping Jake's watch.
Our family is different, our trials are very trial-y, but we can do it because our Pip is so dang Pippy.
We do our best to be a happy family.
We're the Breinholts and we're nailing it.
The Jolly Porter is back for the summer!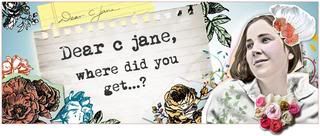 What to do on Pioneer Day, other than go to Spanish Fork:

I am c jane and my favorite post on Reagan's Blob is
this one
--warning you will cry.
contact me:
cjanemail@gmail.com