And Then We Came Home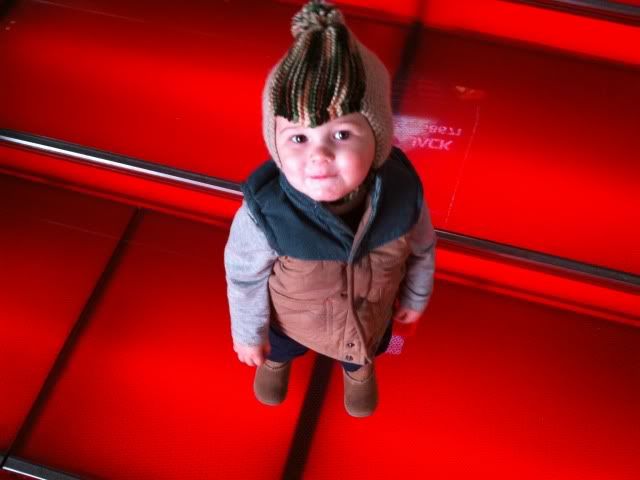 Well, we're back.
From New York.
Where we spent Thanksgiving.
It was an adventurous trip which I'd love to write about someday, but yesterday my throat started to get sore and this morning I have itchy ears and I am afraid to expend any energy not directed at wishing away whatever ailment I am starting to feel because I refuse to get any kind of influenza during the holiday season.
However, here are some photos (mostly of my son in touristy places) taken by Chup's best friend--
his iphone
:
Move over Eloise,
The Chief is now the Plaza's most famous resident:
(we did not stay at the Plaza, but close enough.)
I am not kidding when I say this,
the soldier at FAO Schwartz made me take this photo. We just went in to buy The Chief a stuffed cat (or something else as equally awesome). I was really humiliated for some reason, but I did it anyway: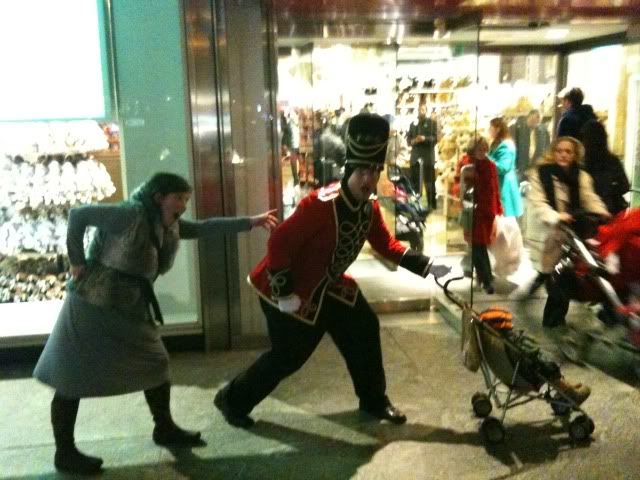 Good thing it turned out blurry.

Thanks Carnegie Deli
for the seven pound Reuben of my dreams: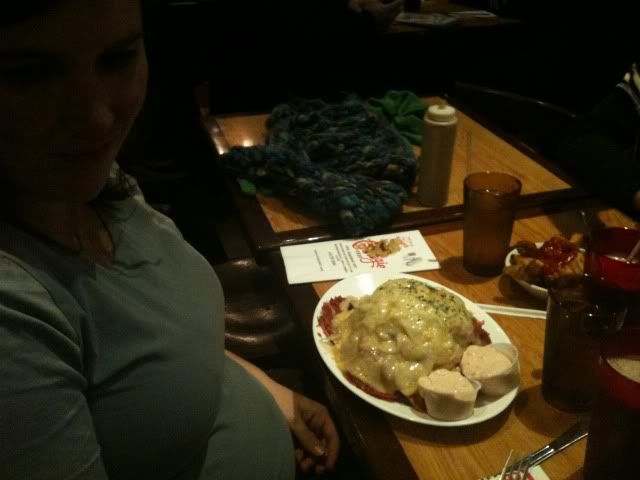 If this baby is a boy, we are naming him Reuben, so says me.

Park Centrale: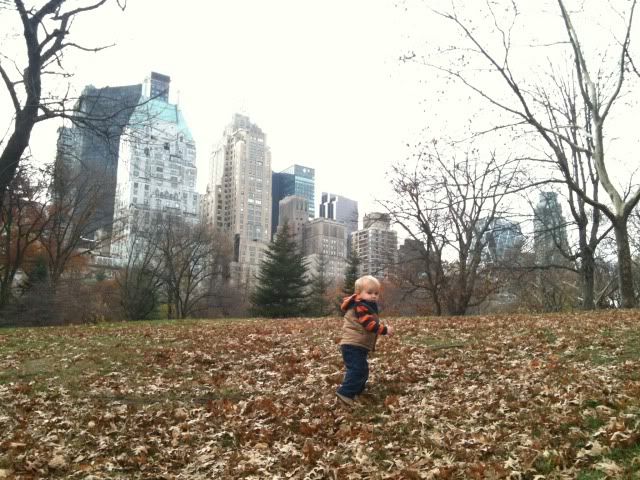 All hail to the heavens (and NBC) we were across the street from Central Park. No baby under five should endure more than one hour inside a small hotel room. The torture is extreme.
Sensory overload
a la Times Square:
The Chief is still seeing stars.
And who is that good looking,
Mormon-style nuclear family from the West posing like posies on Times Square?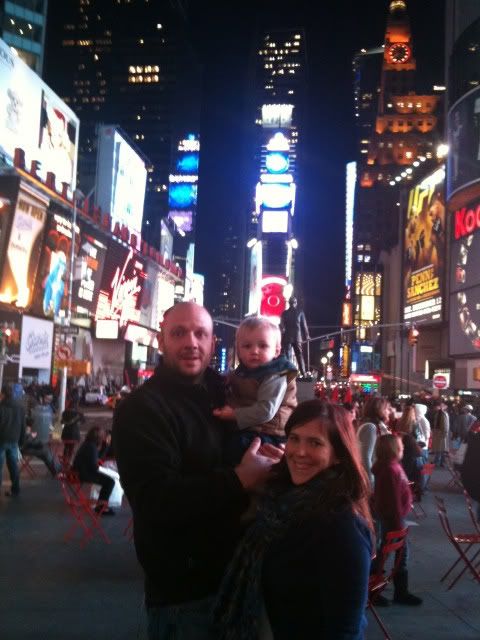 Us!
One day we took the subway down
to the lower east side where we enjoyed a morning of walking and eating various and sundry: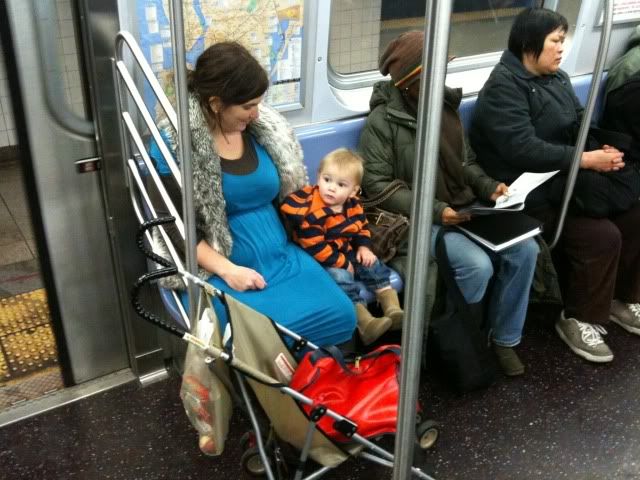 The
bahn mi
on Broome St. was outstanding and I am sorry it has taken me thirty-two years to try it.

Meredith Viera
(you know, Meri) hooked us up with tickets to the Macy's Thanksgiving Day parade. Huge hit with the three and under crowd: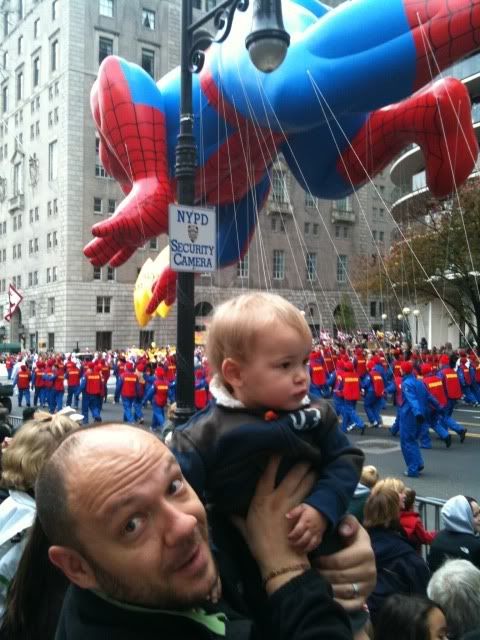 And the thirty-seven plus crowd.
Our blond hair,
brown eyed cousins:

Lucy is going to kill me
for posting this photo, but if this sore throat keeps up I might want to die anyway:
Besides it is not like I look like Mrs. Thanksgiving either.
Plus,
here is a cutie one of Betsy Boots: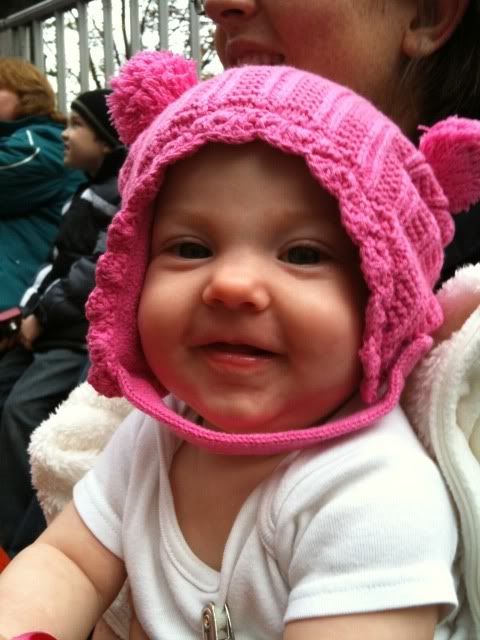 Who needs a turkey? Let's eat Betsy!
Speaking of turkey,
our courageous cousin Ryan Fitzpatrick Simmons and his good wife (and our former neighbor) Kimberly invited us over for Thanksgiving dinner in their lovely fifth floor apartment in Harlem. I steal these photos from
Kim's blog
:
The decor was delightful, the food was superb. Maybe the best pumpkin pie Chup and I have ever had? Yes, affirmative.
Because Ryan and Kimberly are newlyweds,
we were honored to have crashed their first Thanksgiving: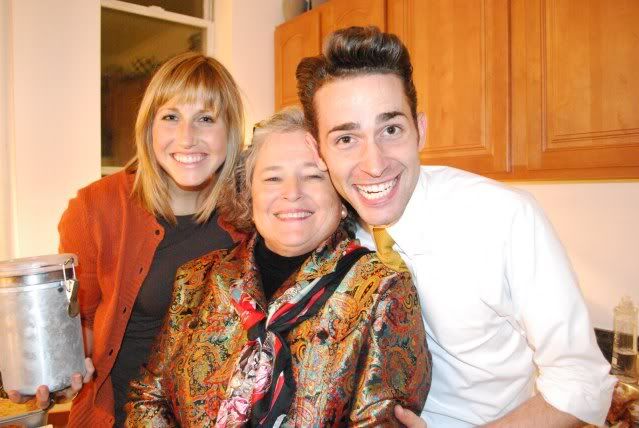 My mom is wearing her Hermes Turkey scarf like she does every year. It wouldn't be Thanksgiving without my mother's Hermes Turkey scarf. Post Script, aren't Ryan and Kimberly adorable?
Okay Lucy,
does this make you feel better?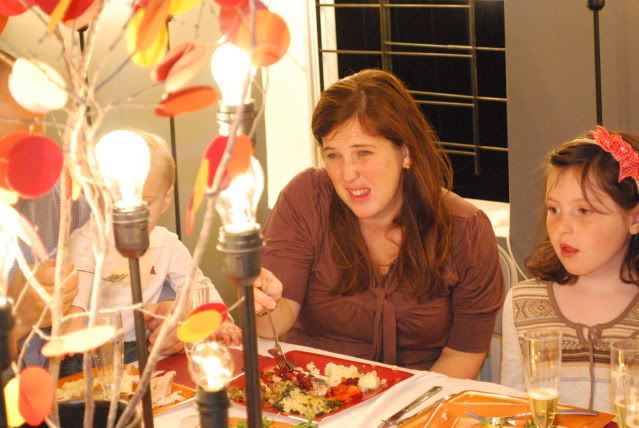 (thanks Fitzpatrick for the download!)
Well, I think that about sums things up.
Actually, it really doesn't. I didn't even get to the part about meeting Alicia Keys or how funny it was to be on set when Stephanie and gang were being interviewed on the Today Show. Or how Matt Lauer said, "Hi Courtney, nice to talk to you again." Or how nice Ann Curry is in real life, SO NICE. Or how we had a fancy time at
White Christmas
on Broadway with a backstage tour afterward by
the
Mara Davi
. Or how my sister gets recognized everywhere we go. Or the cupcakes at Sugar Sweet Sunshine. Or how I was briefly detained and yelled at by the NYPD at the Thanksgiving Day parade and spent a half hour crying over it. Or how
Tavern on the Green
is my worst nightmare stuck inside a restaurant with tricky mirrors and crawling chandeliers serving boring cuisine. Or how we met up with
Bari
at Bryant Park for NYC's best falafel and we all fell in love with her chutzpah. Or how my husband was called a moron by a Delta employee at JFK and how we got our revenge. Or how Stephanie had to spend the night in the hospital. Or how we got lost in Harlem on Thanksgiving and it almost ruined the evening. Or how many times we ate at Whole Foods just because we could. Or how Ryan called me an
ewok
in my new faux fur wolverine vest (wolverine, not ewok).Or, how much I love my family and I am grateful to be apart of them.
Maybe as soon
as my throat gets better I will have the willpower to write it all up in a whimsical post.
Or maybe I'll just let the four hundred pictures I just posted do the job.
Good (Thanksgiving) gravy that's a load of photos. If I wasn't a Mommy blogger before, I am now.


Meet me back here tomorrow? I'll be blogging for a good cause.