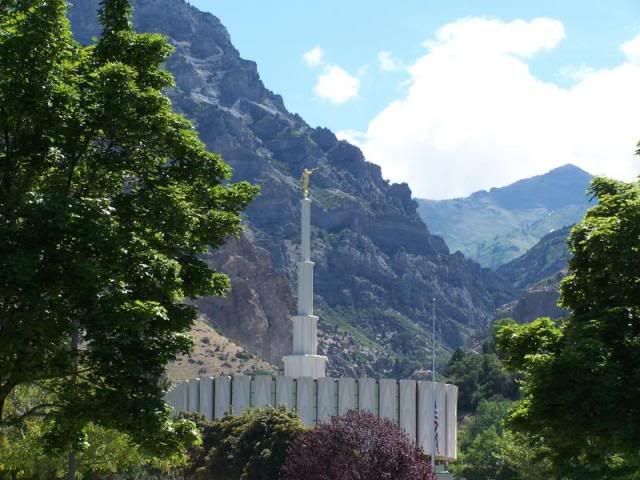 Last night my body
was delivered to the Salt Lake airport. I am not sure where my spirit was, and to that end, I cannot not say how I got in the car and drove home--a lonely, tired passenger. But I do know my body and spirit were reunited the minute I saw my blond baby boy walking like a sailor in the den. If my recent travels did nothing for me other than provide an emotional reunion upon seeing my baby, the whole excursion was very well worth it.
Man, that kid.
This morning I felt more refreshed than my last seven days of jet lag afforded me. We went for a walk to get treats for last night's last minute babysitters, Van and Lindsay. As I approached the cashier she told me that my tag was hanging out of the back of my skirt--and where my shirt and skirt should be meeting there was an inch or so of exposed skin. If I wasn't completely sure, it was at that moment I knew for a fact I wasn't in London anymore.
Yes, back to the Puritan life for me.
As we continued our walk from the store to the Provo Temple grounds, I thought over and over about the spectrum of London vs. Provo, a comparison of Babylon and Mecca. Specifically, what am I going to do about the gap? Because in full disclosure, I walked passed a window this morning, saw my tag and skin hanging out in the reflection and decided not to do a thing about it. That was before the cashier caught me, before I was awake enough to remember I live in a town of rampant modesty.
I thought about the night
Chup
and I couldn't sleep and took to Oxford Circus, down
Regeant
to Soho at two in the morning. We followed streams of drunken revelers around pathways leading to lakes of buzzing humans.
He
was smoking on the curb and yelling at his buddies.
She
was wearing nothing but a pillowcase (I swear) and kitten heels.
They
were carrying a wasted friend like an Egyptian queen on their shoulders across the busy street.
We considered menus at all-night cafes in China town. We stopped at every open pasty shop for
Chup's
spicy chicken pie and two bottles of water (
pasties
will never be the same since Johnny
Depp
introduced me to
Sweeny
Todd). We swept ourselves into quiet alleyways with cobblestone streets, softly illuminated nearby pub signs. We shared a
noisy
bus ride home with transvestites and punks from some eastern European block.
And I loved it.
I loved the hippies on Brick Lane--those women who inspired me to wear more vintage, no matter the social cost. I loved the proportions of Leighton's
Psyche,
nude and lovely hanging out in the halls of the Tate Britain. I loved to smell the fruity
shisha
being smoked by the men on
Edgware
road. I love the begging gypsies on
Queensway
--especially the ones with the dark headed
swaddled
babies. I loved the couple in Hyde Park who were not ashamed to publicly pronounce their adoration of one another. I loved the overuse of spices in the menu at
Tas
.
Then, as always it is back to here. And never before have I been more anxious to be here, with my baby and his wobbly legs. Now I know the meaning of having literal aching arms. (I was about to steal a gypsy baby, I would've if not for the curses). On day five I was more hungry for my baby than our previous five years of infertility wrapped together.
Before
leaving
, along with wondering how much we'd miss our child,
Chup
was concerned about souvenirs, and the fact that we didn't take a camera with us. There were moments where a camera
could've
captured some of our best times, but in the end I didn't regret it. We were able to let moments be moments instead of photo ops. In a way, I suppose, little flashes of memories become the best of souvenirs--time capsules for the heart.
All of these thoughts powered our walk up to the temple hill this morning where we sat for a while looking at the fountains. How do I keep the excitement of Babylon and live in a place meant for the fate of the City of Enoch?
The answer came to me as we passed the golden inscription "Holiness to the Lord" on the temple's east side.
All good things come to those who glorify the Lord, in the right time in the right way.
So I tucked in my skirt's tag, tugged my shirt downward, and headed home.


***photo of the Provo Temple found
here
.