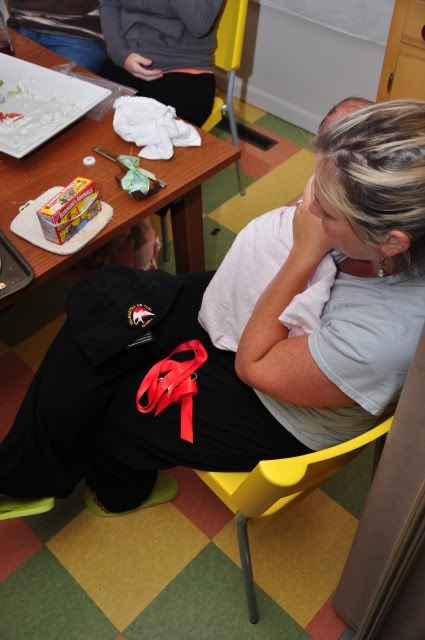 In a total
collision
of serendipity,
all of my sisters came to Retro House at the same time yesterday. As with any sort of gathering, I took the opportunity to talk about myself. Like I always advise, take advantage of a captive audience.
"So my shoulders and arms? They don't look like the same shoulders and arms I've always had. They are less round in shoulder and more round in the bicep area. It makes me uncomfortable to look at them."
And because we all share a common belief that our body obeys our spirit--any physical irritant can be healed through the soul--my declaration elicited a room full of response.
"You need to do something. Like yoga." Stephanie suggested.
"No, I think that the arm area is connected to your life's work. Are you at peace with your work?"
But before I could answer that (which is--yes, I am comfortable with my life's work) The Councilwoman appeared at the door and I moved to give her a meaningful embrace.
"You see," I said as I released the hug from my mother's neck "I think it is because I have given up on giving affection to anyone other than my husband and baby."
"You have?" my mother asked.
"Well, yes. I have had too many experiences where my hugging someone or touching arms or answering handshakes excitedly gave me negative feedback from the recipient. So I stopped because I didn't want to make people feel uncomfortable. And I didn't want to be uncomfortable either."
It is true. I've never been fully comfortable with hugs. Hugs. It is even hard for me to write the word. I don't know when to offer them, when to not offer them, when complications are at stake. When I first met my friend Sarah W her husband told me she didn't do hugging. Not even her family. It was a simple choice she had made in her life. This fact made me so endeared to her that now I can't help hugging her every time I see her--which is problematic. I apologize every time.
"People don't know what to do with touching and cleavage." Lucy offered.
True too. I have cleavage. All the time. Even when I wear turtlenecks (somehow?) And I have begun to see it as a natural attribute. I have blue eyes, freckles, and cleavage. It just comes with me--and I can't fight it without medical procedure. If you think I am bragging here you are crazy. Having
consta
-cleavage is often awkward. But maybe Lucy is right. My cleavage plus my hugging, is too much?
Suddenly I had two problems on tap. My unrecognizable shoulders and arms and my affection dilemma.
"When you are affectionate with people are you doing it out of love, or because you are flirt?" Page followed up.
"Because I am a flirt. But my loving is always manifested by flirting. I don't flirt with people I don't love."
Now, three problems had emerged.
Later that night after I spent sometime vacuuming and thinking about our afternoon conversation I got a text from Page "Don't ever change" it read.
This I shall ponder at the expense of my biceps.
***I came across a photo (see above) of my foreign shoulders and arm taken the night Vance came home from
his successful trip to Mt. McKinley
. He brought little prizes for me and The Chief from sweet Yvonne--a reader in Alaska. (How cool is that?) And just for the sake of celebration, here is what Vance looked like that night: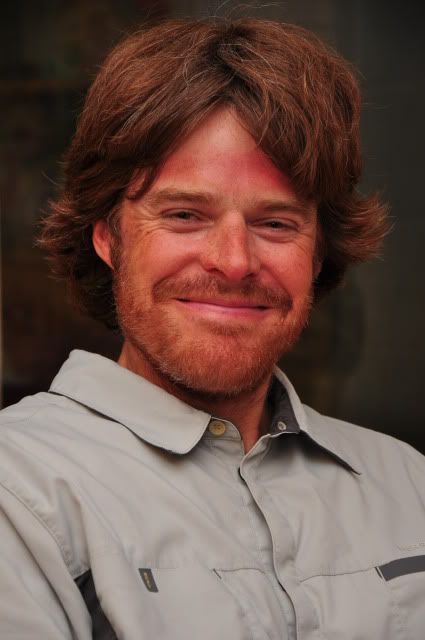 Congratulations Vance on making it to the top!

(I bet your biceps are beyond compare.)