Weeds versus Wants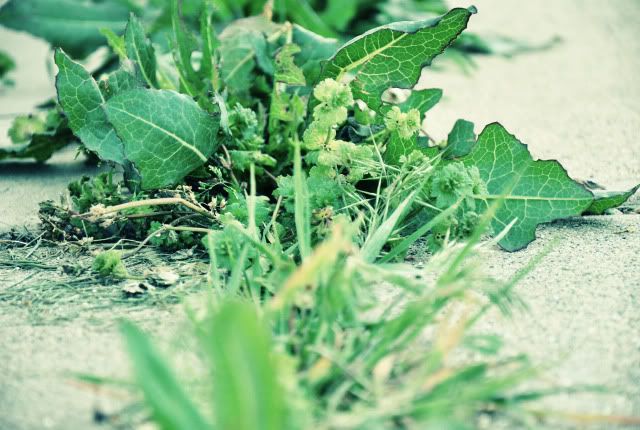 Last night Chup and I joined Mormons all over the globe
in holding Monday night Family Home Evening. It starts with singing a song, then a prayer, discuss family business, pontificate on doctrine and end with treats. Who doesn't love Family Home Evening?
Last night in our review of family business, I brought up the obvious fact that we have weeds spreading like swine flu at Retro House. This fact is really bugging me. I don't like to be the eye sore of the neighborhood, and I know my neighbor cares about my weeds because the other night she suggested a trade.
"If you lend me your ear so I can vent, I will pull your weeds."
So I sat and listen to her stories of family dysfunction, while she used suppressed anxiety to yank all the weeds (and one time a mistaken plant) out of my front flower bed. Not bad. But even though my listening ear and nodding head kept our side of the bargain, I still felt ashamed that my distressed neighbor was plucking weeds out of my garden. Shouldn't be the other way around?
I am remembering the first time I saw the backyard of Retro House. My breath refused to be exhaled. It was a park! A vast empire of grass and brick fencing! We could host family parties with tents, booths and rentable Ferris Wheels! But in my merriment I didn't realize that the expansive space would require maintenance. Weeding! Mowing! Fertilizing! Labor!
With Chup off using business trips to gain rapid travel rewards, he nary has the time to tend to our kingdom. Every time a dandelion goes to seed--wispy wishing devices--my heartbreaks a little. This means my heart breaks forty-seven million times a day. And what am I going to do?
"So in conclusion," I argued to Chup as our family business section wrapped up, "I think we should hire a landscaping crew to do the work."
"A what? No. We don't need to add to our monthly expenditures." Chup argued back.
We have a saying in our culture--a little poem really--that sometimes exemplifies our experience of FHE.
Family Home Evening on Monday Night.
Starts with a prayer,
Ends in Fight.
"Just think about it." I said, even knowing Chup will not spend money on any task in his realm of capabilities. If Chup can do it, he will certainly not pay someone else to do it. And even though I promised to shift all sorts of money around in order to come up with room in our budget for yard help, he still wasn't satisfied.
On to the lesson, where we discuss aspects of the gospel, we opened up our Church's magazine
The Ensign
, and read an article about avoiding debt and addiction. In essence, our becoming provident providers for ourselves and our family relies heavily on our ability to understand needs versus wants, and feel comfortable with the words "We can't afford it."
I AM NOT comfortable saying, "We can't afford it."
I really hate those words, just about as much as I hate weeds consuming every grass patch, crack and corner of our home. A toss up, those two. The phrase "We can't afford it" makes me feel so restricted and uncomfortable. Nothing makes me want to flee to the accepting arms of debt more than someone telling me I can't have what I want.
So as you can see, this was a really good message for me.
By the time we had finished the lesson and moved on to the treats (hate frugality, love treats) I knew in my heart what I had to do.
"I will weed." I said to Chup, dolefully swallowing. "If you will promise to mow once a week, I will do the rest."
"Really? No crew?" Chup was encouraged.
"Yes." I cleared my throat. Deep inhale. "We can't afford it."
One weed down, nine nonillion more to go.
Want to read the invaluable article we discussed last night? Read
here.


I would love to hear your ideas about provident living, weed pulling or how you've learned to say "We can't afford it." For a discussion click here.