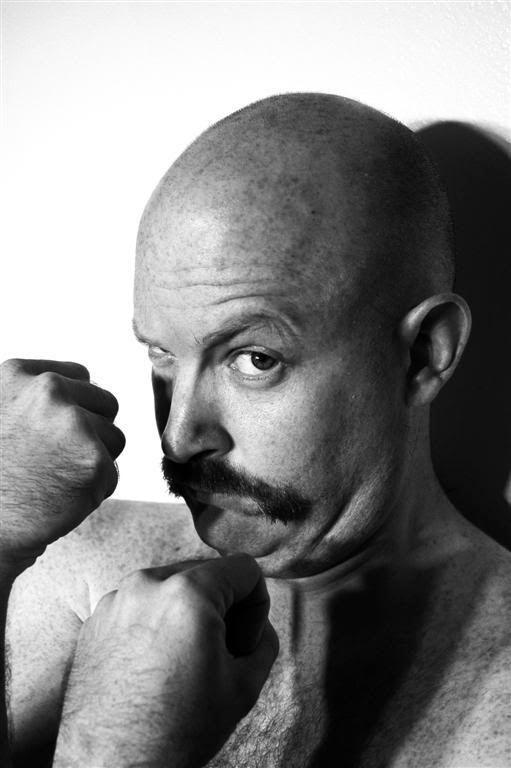 In 2005 my brother Topher
sent an email out to the family. He had started a "blog" under the alias the Jolly Porter. After reading his wildly funny posts a couple of us family members decided to follow his lead. Thus, the Jolly Porter was the impetus for c jane enjoy it and Nie Nie Dialogues. We owe much to his tutelage.
You may have noticed last week the horrible news that the Jolly Porter officially ended his blog after four years. This is tragic. I was hoping to persuade him to reconsider, alas he has other projects to feed his passion. We, his audience have no choice but to remember his roses in the winters of our lives.
His clever, clever roses.
It was Page who often reminded me that of all our family blogs, the Porter's was the most entertaining. She is right, a second to that though, is
Matt's Hunting blog
. Always intriguing, always full of wildlife and swamps (and now! a picture of
Sweet Marie and a fish
!). But despite my envy for his uncanny blogging ability, I can't let my mentor blog just disappear into that long, dark blogging night. This weekend I've dedicated my blog/ frog forum/ facebook to host tributes to the great comical blogger Our Jolly Porter.
Here is how it works:
You can
write a tribute to the Jolly Porter (maybe include your favorite posts of his) email me at cjane @ gmail .com and I will post it here.
Or,
You can
post your tribute at my blog forum
here
.
Or,
You can
write a tribute on my
facebook.
Please don't let the pieces of this weekend scatter without taking time to memorialize the man who was brave enough to interview demons, reclaim his manhood and travelogue his family's trip to a God-forsaken-county, all in the name of blogging.
My favorite: the Porter's take on Nie found
here.
Tributes from my inbox:
Hello dearest CJane-
So glad you are doing this as I'm already going through major withdrawals. I can't even count how many times the jolly porter has made me laugh. Cause he has made me laugh that much. My favorite post has to be the one where he talks about his jogging outfit. I was rolling. on. the. floor when I read that post.
Please come back jolly porter, we miss you!!!
xoxoxo
Deb
Dearest Ceej,
It is with a heavy heart that I send you condolences on our most tragic loss: The loss of any hope for an update on the status of Rosalie DingDing Tampon. I don't know that I can continue knowing that she is out
there
and I am in
here
in a giant glass box of emotion. I will continue to self-medicate with fry sauce.
Tearfully yours,
La Yen
Courtney,

For the longest time (ALL of my life) I have struggled with humor. My brothers are hilarious and they easily make me laugh so my problem isn't finding the humor in others. Nay, my struggle has been finding my own humor. But then I happened upon The Jolly Porter, whose jogging post had me in painful stitches...and I found myself wondering, if I had it in me to be funny. I tried a couple times to explore my own funny bone in posts and the results were acceptable, certainly not stand up material, but I felt inspired to try now and then, to make others laugh. And I owe it all to Christopher... and these posts, my favorites from the Jolly Porter Archives...


[thank goodness his posts are still in my google reader]


1. my jogging outfit
2. weekly goal setting
3. am I strong enough to be your man
4. i have feelings too
5. anti-climax
6. moral/ethical dilemmas, day 6 [hot chocolate in coffee cups, because I can totally relate]
7. a secret crush [because the paragraph about Twilight is so stinkin hilarious]
8. An update on my mustache
9. In character [because he chose one of my prompts...and nailed it]
10. brother, can you spare a dime?

If I had a chance to ask the JP a question, I would ask him why he hated the movie Australia, because I loved it and it has been bugging me ever since he mentioned he hated it...


Forever and always a JP fan,
Marilyn Lott


Hi Courtney-
I can't remember the name of one of my most favorite posts of the Jolly Porter's but it was where Margaret was entered in a beautiful baby contest and didn't win. Made me laugh.
Cheryl Weathersby


Hi Courtney,
If we go on a hunger strike, will he reconsider? Or at least keep the old posts for the addicts to reminisce?!
My 14 year old and I enjoyed all of his entries, but the missing T-shirt took it to a whole new level. We had tears streaming down our faces.
Please, please bring back our favorite (sorry Courtney - you're a close 2nd) blog!
Susan




seriously, what the hell?
Jed Wells



Dear JP,
Trying to choose a favorite post would be like trying to choose a favorite child. Impossible. You are funny. "Snort-outloud-while-I-read-
your-posts-alone"...funny. I will never forgive you for abandoning us. But...we still love you (we just don't like your actions!)

xoxo
Leisha
Loyal Fan






Hello the lovely cjane!

I am quite surprised that JP (as he is known in the blogging world) is leaving us. I never read a blog until I saw your beautiful smiling face on the Today Show. I have been addicted ever since. Now, I feel the urge to pour my heart out in an email to a family I have never met. It's quite strange the connection we all feel to your family. I feel like you are all my friends, my family. I have to say that I actually miss when you (and Jayniemoon!) do not blog on the weekends (gasp!) or actually have a life other than your blog (louder gasp!) Ok, enough praising the best family in the world...here is my favorite Jolly Porter moment:

Picture it: Las Vegas

November 2007

Lisa and JP head to Vegas. I loved his little comments about everyone he happened to glace at. I was enjoying my morning coffee, catching up on the past 3 years of his blog, when all of a sudden, there she is. Rumor Willis a.k.a Mr. Potato Head. Not only did the coffee shoot out of my nose, but I peed. Yep, I said it! I peed! In the hopes that he will reconsider his retirement (and make a come back like Brett Favre!), I am openly admitting that I had coffee shoot out my nose and I peed. I always knew that Rumor Willis had reminded me of someone, I just could never put my finger on it.

Thanks for the laughs (and more!)

Kim ~ Ohio


Dear Courtney Jane,

One day I heard a song on the radio. That song was (and is) called "The Christmas Shoes." And I threw up a little bit in my mouth. And then I felt kind of bad, because it was about a boy who wanted to buy some shoes for his sick mom (except why would a woman confined to a hospital bed need fancy shoes?). But then I read The Jolly Porter's why, why, why, delilah? post, and I felt so much better.

P.S. In his December 2008 post thumpety thump, he guaranteed that his song "Jennifer, the Winter Pony!" would become a holiday classic by Christmas '09. I really hope he makes good on that promise.

-Emmelyn



Dear Courtney,




I also will feverishly petition to have him at least leave his archives up!! Puh-leeeeze!!!




And one of my (many) favorite posts is his about the YM/YW activity playing volleyball. This is soooooooooo my husband (and probably) me. I mean, really, any game worth playing is worth winning, right?




Cheers to you Jolly Porter!




Carrie





CJ:

I echo Kim from Ohio when I say that I am glad to "know" your family. I was not introduced to you or your siblings until after NieNie's accident. Then a group of friends told me about all of you and I have been reading archives and the latest postings ever since. It is seriously addicting...in a good way. I will miss Topher's posts. I especially loved his sentiments to his students as of late. We send our best to all of you, and wish that the Jolly Porter would continue to post, but know that sometimes other things are equally important. We will continue to follow the rest of you. JWD in Davis County

Dear CJane,

As a convert to the Church, I have really enjoyed reading the Jolly Porter because I find him to be inspirational. He appears to be a faithful Church member who lives the Gospel and yet is clearly an intellectual who has interests beyond the typical prescription of vanilla (no matter how much I love vanilla!) that most have circumscribed themselves to. I have loved his movie and music recommendations and have even more enjoyed talk of his profession as I am a budding sociologist in pursuit of a career teaching at university. I am a person who wishes very much to find that seemingly delicate balance of faithful member while still holding onto important parts of who I am outside of the Church - I greatly enjoyed watching him do this successfully. I am saddened that he has closed up shop.

Merci et bon week-end,

Christina




I just love Topher's mind. I will miss his wit. Hey, if we get a big enough love-fest going, do you think he would reconsider? Or maybe leave his archives up for a while so we could sort of 'retro-wean'? Guest blog with you and Nie? SOMETHING?

Tohper, DON'T ABANDON US! We love you!!!

Shirley Rousseau

Tampa, Florida



I recently read the post about playing favorites with his students. My husband is a professor and this made me laugh so hard. I was devastated a week later when I went to read it to him and the JP had closed up shop. Please at least keep the archives open!! I have only just begun mining the gold!

Calicobirdie

Hey Courtney! Page's friend Amy here.


. . . my dear friend Page introduced Christopher's blog to me, urging me to read the entry "Would You Like a Little Hooch with Your Omelet?" (or something along those lines), which still has to be my favorite. It brings to mind the many mornings we've sat around the breakfast table reading scriptures, with the tots sounding out "whoredoms," "harlot," "concubines," and the like, while mom and dad ignore their quizzical gazes and hurry them on their way to the next chapter and verse. Thanks to Christopher, I can never look at Gospel Art Kit picture #110 without seeing it through an 8-year-old's eyes: Really, why is Joseph considered such a hero for fleeing Potiphar's wife? Clearly anybody would do the same when a hard-looking hag sporting blunt-cut bangs, kohl eyeliner, and matching turquoise belt-and-headband ensemble pulled on their arm. Clearly. Duh.




Oh Jolly P. Please don't abandon us entirely for the land of head shots, black mock-Ts, and pas de bourres/chasse/chasses. "Tis true that a good play needs no epilogue," but we'll be bereft without a few more of your epic blogs.




-Amy Lynn Andrus

Dearest Courtney,

Hope this finds you, the Chief and Chup well. Thank you for your wonderful words and time that you give.

My favorite all time post was the Nie Nie Porter. I could randomly think of that post at any time or in any situation and immediately crack up. It is by far one of the funniest things I have ever seen in my life. I think your brother is one of the most intelligent people out there to be

THAT

funny! I am so bummed that he's not blogging, but perhaps he'll bless us another way and we just don't know it yet.. Maybe his blogging purpose was just to get you and Stephanie going so that when the plane crash happened last year--well you know the rest more than the rest of us. In the midst of that, we have all been able to be interested and giggle lots.

I also really loved this post:

http://thejollyporter.blogspot.com/2008/12/oh-christmas-tree.html

Thanks for doing this post and giving us all closure! I was wondering what happened!

Katrina