The Angel in Me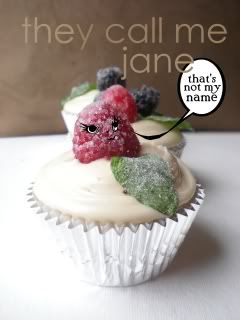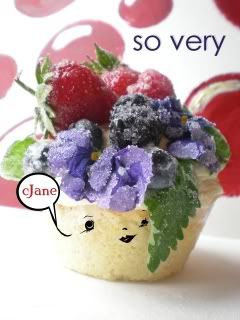 Over a month ago
I
mused about having another baby, or writing book
. I allowed the spirits of consideration to dance with my soul for a few weeks before I decided on a steady path.
Neither.
As a result of revelation, I've learned a book or a baby seems to be in my immediate future. Worthwhile goals, ones I intensely hope to achieve in the next few years, but not in the next nine months. I am moving on to new considerations, different spices and new spirits to dance with in morning hours. Because, if nothing else, I am a firm believer in personal
reinvention.
It is the secret to life.
I am starting with a cupcake. Thanks to passionate voters, Brooke from
Conversations with a Cupcake
has impersonated me with flour, sugar and a halo of edible flowers. Watch my baked-self transform from nice into spice. If my end result looks as good and tastes as delectable as my recipe I shall be very content.
Watch the transformation at
Salon c jane
!
p.s.
steady yourselves for Brooke's mud cake a la Nie to be coming soon to Conversations with a Cupcake!
Voting results for the recipe that is most c jane:
| | |
| --- | --- |
| Chili Mango Cornbread cupcakes with pure vanilla ice-cream & bittersweet jalapeno ganache | |
| Mountainous Angel-food cupcakes, topped with Burnt-Butter icing and a halo of rainbow-sugared fruit and edible flowers | |
| Laced Coconut-curry cookie sandwiches with lemongrass mousse filling | |