Knowing This Guy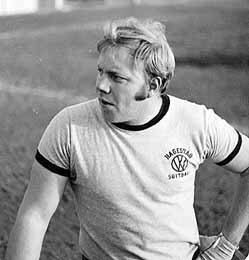 This post is in honor of Larry H. Miller

a great philanthropist in the state of Utah.
Larry passed away on Friday. He will be missed around here.
(Photo: Deseret News)

Long before I was Mrs. Chup,
I was nothing more than a little sister to my brother Topher and sister-in-law Lisa whom Chup knew through acting and improv groups. They had thrown his name around enough in living room conversations for me to feel as though I was his friend too. And in those days I lived across the street from the rugged almost-thirty-year-old bachelor, so I was technically a neighbor as well.
But that was it, really.
He didn't know me much from the next short-haired, freckled face Clark sister though I was the only one available. Page had long-since married. Stephanie, by far our most demure sister--shy and modest--had also recently married. Then came Lucy, who besides being extremely spoiled, was also too young. That left me, and I was in love. With him.
We had met before (at a fateful New Years Eve party) but mostly I had fallen in love from across the street. I knew his comings-and-goings from my advantageous dormer window. I stalked him like celery. He was tall, liked desert boots and ate out a lot.
I let my crush flourish until one day I watched as Mr. Chup pulled up in his silver Monterro, walked around the car and produced a svelte blond with hair to her midlands. He took her and her loaded backpack into the house.
At that point I no longer had a crush, I had a challenge.
So it was one day that my little sister Stephanie heard there was to be a red carpet occasion for the cast of the recent
Dutcher
movie. Larry H. Miller had opened the foyer to his grand-scale house of amusement, Jordan Commons for the event. Because they were in the ensemble, Topher was going, Lisa was going and according to their reports, Chup was going too.
I convinced my shy sister to come with me just to watch. I promised that seeing our loved ones on the carpet would be well-worth the thirty minute drive. Included in the conversation was the part about me wanting to see what Chup's leggy blond would be wearing, and how he'd look by her side. Ever loyal, Stephanie also suggested we dress in our swanks, just to draw attention if needed.
Jordan Commons was all Hollywood-ed out. There were flashing lights, reporters in front of cameras and swarming crowds around our local stars. We watched Topher and Lisa parade in, he looking artsty and her glowing in turquoise. It wasn't long after that I noticed Chup. A good foot taller than the buzzed crowd, he had on a leather jacket and was busy networking. On his arm was the blond, her hair a bit more strawberry against the redness of the carpet. She was prettier at every look.
The crowd proved too much for me. Stephanie encouraged me to say hello my good neighbor, but my heart was fainting. She knew well the feelings of instant insecurity and asked if I'd like to take a short walk about the Commons. Maybe I could find courage in a Fresca? As we circled around I tried not to take the occasion too seriously (really). Nearby the ticket office we met up with a man in a blue golf shirt and tan Dockers. He looked really familiar, and I wondered if he was a casually-dressed actor late for the premiere.
"Hi Larry!" Stephanie said to the man cheerfully.
It was Larry H. Miller himself.
"Hello!" He responded just as jovial.
The slight shock of seeing Larry so unceremoniously walking around his place was underminded by the astonishment of seeing Stephanie so extroverted.
"What? I feel like I know him." She explained to my stupefied face. Larry's marketing motto
was
"You Know This Guy" and it proved true. His down-to-earth attitude wasn't just a ploy for auto sales.
Her bravery and his kindness inspired me. I turned to look towards the crowd. There was Chup again, tall, handsome, leaning over talking to the blond. Suddenly he looked up and our eyes met. I didn't look away. Neither did he. For a few seconds we stared at each other, until the blond beckoned him back to the crowd. It appeared that she wanted to be introduced to the infamous director, Richard Dutcher.
Years later, when I was Mrs. Chup (officially) he told me that evening marked the end with the blond. He introduced her to Dutcher by the wrong name. He knew it wasn't a good sign.