Shower the People You Love with Love
One night I received
an email from my sister-in-law's good friend Heather Johnson (of
Family Volley
). Heather she asked if she could throw me a virtual baby shower. I was really intrigued because, as my friends know, I am not really a shower kind of gal. I have my intense insecurities and attending party-showers are one of them. Is there some sort of therapy for that? Call me.
Don't call me, actually because as long as we are talking about intense insecurities the phone tops that list. So, just, nevermind.
A virtual shower wouldn't require my bumbling presence or my wild nervous-induced social inappropriateness. I wouldn't have to apologize in every thank you card I write. So I said, sure! That sounds fun! Let's make it a party.
But see, what I didn't know was, Heather planned a
HUGE VIRTUAL SHOWER
with lots of gifts and giveaways for everyone from some of my favorite companies and
kind posts
from my friends. And as I sit here and write this, I am overcome. Mostly because I am pretty sure I don't deserve one second of it and also because I can't believe someone would do something so grand for me. Especially someone who I have only really met once in real life.
If ever someone doubts the charitable side of blogging, please send them my way.
So this week on my
dearcjane blog
I am going to post about the party and include all the giveaways because I am having a baby! And we should all celebrate! Please come! Print the cute
Sara Jane Studios
invite(above) and put it on your fridge! I want you to be there and I promise no over-the-top jokes.
Well, I can't
really
promise . . .
(thank you Heather--can't wait to give you that bear hug.)
day one: c jane soiree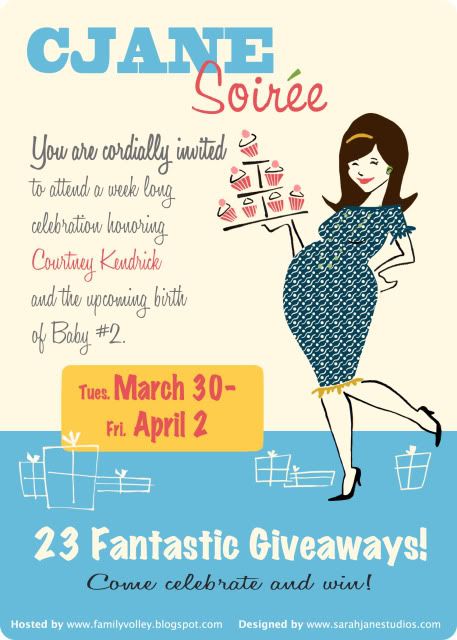 I am having a baby so you should
enter to win seriously fabulous prizes

from these generous companies:
Magpie Lovely
Sarah Jane Studios
Vintage Pearl
The Signature Tee
Petunia Pickle Bottom
Down East Basics
(click on invite above!)
Guide to P-town:
Easter Basket Auction For A Great Cause!
I mean, a GREAT Cause!
Click on photo below!