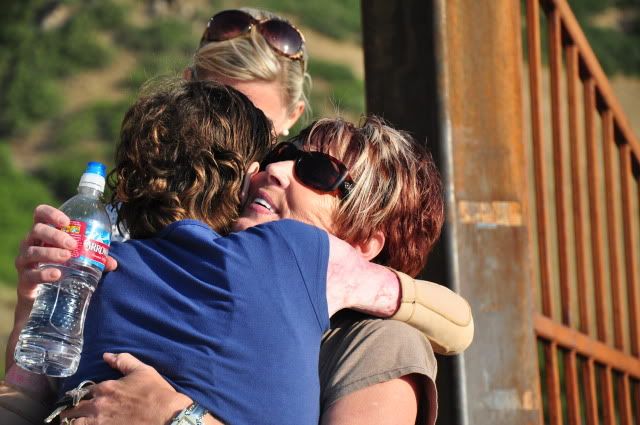 As I have read emails,
facebook comments, and discussions on the Blog Frog all applauding my little sister for her bravery in showing her
new self
this past weekend, I have been overwhelmed with the offerings of support.
Thank you.
And because her story is hers to tell, and not mine, I was going to stay silent. But I just might be one of those big sisters who can't help but have something to say. And if you think I am incessant, try our eldest sister Page. Oh Duck with Orange Sauce, she puts me to shame.
(I love her for it. Oh I love my sister Page! Some day I will tell you all about her.)
And now that I have mentioned two of my sisters, I will surely get a forlorn text from Lucy if I don't mention her too. So here is this:
Lucy doesn't care about having something to say, and I enjoy her company so very much.
Where was I?
Today I was trying to comprehend some scriptures outside in the backyard (you know) and without much prodding, I recalled a couple comments about my sister's new image. They were along the lines of this:
Nie is even more beautiful than before.
And I must say--I have to say--publicly and before the whole community, that I agree.
The first time I saw my sister unwrapped and exposed will remain with me forever. The nurse had warned me before I entered into the room that my sister (still in a coma) would look very different. I walked down the off-white sterile corridor at the
Arizona Burn Center
, the same one I had walked down several times before with a pit in my stomach and a strange hope in my chest. I scrubbed my hands, I pulled on the yellow gown and tied my hair up with a net. With a deep breath, I walked into her room and found her there sleeping.
She was lovely.
Hardly the face you see today--skin was just starting to heal--but a face with eyes and ears and a nose and lips. I nearly dropped on my knees with happiness. I couldn't help but whisper in her ears as she slept.
"Steph, you look so good! You look so good!"
We had been warned of the worst, and this was the best. Of course it was. Her body had channeled the prayers and love the goodness of hearts and it was healed most remarkably. I stared at my sister, intubated and a little agitated, and cried at the thanksgiving I felt.
In my sister's face I see the grace of a loving Heavenly Father. I see His glory and His miracle. I see how hope heals the worst of scars. How the essence of beauty is true faith, to be bestowed on those who feel God's love. How can you help but testify of this?
And the best news of all, perhaps, is that it is a gift to all mankind.
Healing, beauty, grace and peace.
Free and accessible to all.
She lives to remind us.