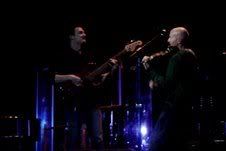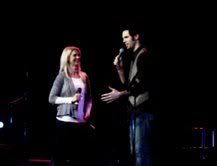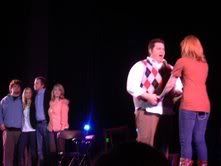 We arrived home
from the concert late last night. The Chief had fallen asleep in his concert-going clothes and we shoveled him into bed that way. Claire, Jane and Oliver wrapped themselves up with their tired bodies and were asleep in rapid minutes. Chup and I sat at the dining room table finishing off a soaked tres leches
talking about funny moments of the evening.
Mindy was lovely as ever. Chup gave kudos to his friends The Thrillionaires and called them all genius. We enjoyed our friend Ryan Shupe's performance of
The Devil Went Down To Georgia
and were surprised to meet David Osmond. Claire and Jane pulled out a (phew) flawless
Golden Slumbers
. And there was that encore which included Mindy, The Thrillionaires and ahem, me. I am not sure what happened, but at one point I was pretending to play the piano next to the brillantly talented Kendra Lowe. And danced with Jake Suazo. But that is all I remember.
Thanks to Jenny and the Silent Auction Team, those who bid and those who auctioned. Thanks to those who bought tickets and came to the concert. At one point I looked out on the audience and saw the faces of the people who care about my sister and her family. Near done me in.
For my family this was the Nie Recovery Finale. It has been almost six months since the crash, and in that time we've seen the goodness in humanity. Our sister and her family are taken care of and we thank the world for helping us in this effort. There are so many causes to support, and we've been so blessed to have had this tremendous response. Now is the time for our family to join with you in helping those who are in need. Giving back is the only way we know of to properly show our gratitude for what we've been given.
On February 14th we are asking that all Nie Recovery buttons on websites are changed to I Read Nie Nie buttons. See
here
for more details. The next phase of recovery is going to be long and difficult, but we are blessed to even have a recovery.
World, thank you.
***Thanks Emily for the photos!

For the official concert photography by the Haley Warner see here and please note all photographs were taken by Haley who is gestating twins. Sister Lindsey helped--thank heavens.